SABATON – reveal »Swedish Empire Live« cover art, tracklist and formats!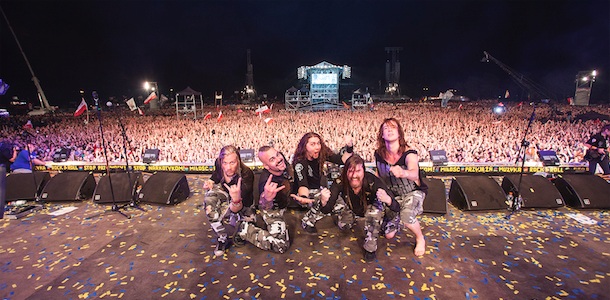 Swedish heavy metal superstars SABATON have revealed the cover artwork for the band's first ever live DVD/Blu Ray »Swedish Empire Live« as well as its tracklist and available formats.
»Swedish Empire Live« features the band's stunning live performance at the renowned Polish Woodstock Festival in 2012 where over half a million fans had gathered to watch SABATON deliver as they are known for doing.
Besides this overwhelming main feature, the first ever SABATON live offering also features even more live footage of the band's performances in Gothenburg, London and Oberhausen on their extensive "Swedish Empire Tour".
Find both tracklist and cover (both DVD/Blu-Ray and Earbook) below/attached.
»Swedish Empire Live« can be pre-orderd via http://smarturl.it/SABATON-SwEmpireand will be out September 20, 2009 – available as
2Blu-Ray Digi
2DVD Digi
DVD !!!Poland only!!!
CD Digi
2LP (limited black vinyl in gatefold + poster)
2LP (limited yellow vinyl in gatefold + poster) !!!Nuclear Blast Mailorder only!!!
Earbook
(2Blu-Ray + 2DVD + CD + exclusive bonus CD, 48 pages Earbook)
Special Leather Hardcover Earbook !!!Nuclear Blast Mailorder only!!!
(2Blu-Ray + 2DVD + CD + exclusive bonus CD, 48 pages Earbook)


DVD 1 / Blu-ray 1
Live @ Woodstock Festival (Poland)
01. The March To War
02. Ghost Division
03. Uprising
04. Gott Mit Uns
05. Cliffs Of Gallipoli
06. The Lion From The North
07. The Price Of A Mile
08. Into The Fire
09. Carolus Rex
10. Midway
11. White Death
12. Attero Dominatus
13. The Art Of War
14. Primo Victoria
15. 40:1
16. Metal Crüe
17. Panzer Batallion


Swedish Empire Tour Mix:
01. The March To War
02. Ghost Division
03. Gott Mit Uns
04. Poltava
05. Talvisota
06. Cliffs Of Gallipoli
07. 40:1
08. Swedish Pagans
09. The Carolean's Prayer
10. The Lion From The North
11. The Hammer Has Fallen
12. Attero Dominatus
13. The Art Of War
14. En Livstid I Krig
15. Primo Victoria
16. Metal Crüe


– The Great Orchestra Of Christmas Charity Foundation (short movie)

DVD 2 / Blu-ray 2:
Live in Gothenburg
01. The March To War
02. Ghost Division
03. Gott Mit Uns (Swedish version)
04. Carolus Rex (Swedish version)
05. White Death
06. Poltava (Swedish version)
07. 40:1
08. Karolinens Bön
09. Into The Fire
10. Cliffs Of Gallipoli
11. Lejonet Från Norden
12. The Hammer Has Fallen
13. Attero Dominatus
14. The Art Of War
15. En Livstid I Krig
16. Primo Victoria
17. Metal Crüe


Live In Oberhausen
01. The March To War
02. Ghost Division
03. Gott Mit Uns
04. Poltava
05. Carolus Rex
06. 40:1
07. Cliffs Of Gallipoli
08. Swedish Pagans
09. The Hammer Has Fallen
10. Attero Dominatus
11. The Art Of War
12. Primo Victoria
13. Metal Crüe

DVD 3 EARBOOK BONUS DVD:
Live In London
01. The March To War
02. Ghost Division
03. Poltava
04. Talvisota
05. The Carolean's Prayer
06. Uprising
07. The Lion From The North
08. The Hammer Has Fallen
09. Coat Of Arms
10. The Art Of War
11. Primo Victoria
12. Metal Crüe


Live Clips:
01. Karolinens Bön (live clip)
02. En Livstid I Krig (live clip)


DIGI CD:
Live @ Woodstock Festival (Poland)
01. The March To War
02. Ghost Division
03. Uprising
04. Gott Mit Uns
05. Cliffs Of Gallipoli
06. The Lion From The North
07. The Price Of A Mile
08. Into The Fire
09. Carolus Rex
10. Midway
11. White Death
12. Attero Dominatus
13. The Art Of War
14. Primo Victoria
15. 40:1
16. Metal Crüe
www.sabaton.net | www.facebook.com/sabaton | www.nuclearblast.de/sabaton