SEPULTURA – Dave Lombardo to guest on new album!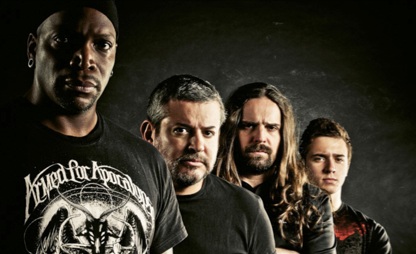 Dave Lombardo, former drummer for thrash legends SLAYER will be featured on the upcoming album by brazilian-american thrashers SEPULTURA.
In his newest update on brazilian newspaper Pernambuco.com, guitarist Andreas Kisser tells the entire story about how Lombardo got be featured on his band's new album by "accident".
Lombardo, who was having some quality time with his kids and dog by the beach near to the studio where SEPULTURA is recording the new album together with sound guru Ross Robinson (MACHINE HEAD, SLIPKNOT, KORN, LIMP BIZKIT, FEAR FACTORY), told Robinson about his whereabouts which lead Ross to ask him if he wanted to guest on the recording.
Commented Kisser: "He came and it was so nice, so special, so awesome! He is one of the nicest guys in business and he enjoyed the idea a lot. Ross and Mike prepared two drum sets on the living room, facing each other, no cymbals, just tribal drums! When the mics were all ready and running Eloy and Dave started playing and the magic was on, so great! The part they recorded will be a special part on the middle of one of the songs, it came out crazy!"
Read the entire blog at http://blogs.diariodepernambuco.com.br/estudiosepultura/en/diario-de-estudio-parte-4/
The as of yet untitled album is scheduled for a fall 2013 release.
www.sepultura.com.br | www.facebook.com/sepultura | www.nuclearblast.de/sepultura