SEPULTURA – thrashing Europe on headliner tour!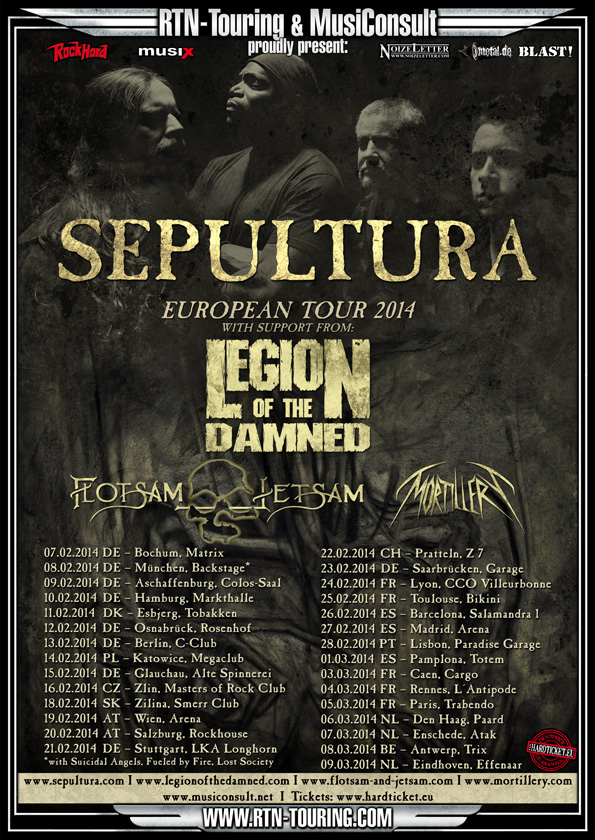 Is there anything better than starting a new year with a big bang? Well, maybe starting a new year with a huge truckload of thrash metal!!!
Which must have been exactly the thought that Brazilian veterans SEPULTURA had…
Whole generations of bands have been influenced by killer albums such as "Arise" or "Chaos AD", and the fourpiece has always been a revolutionary force: "The mediator between head and hands must be the heart" – which will be released October 25, 2013 – proves that proudly! This multi-faceted beast has been produced by none other than Ross Robinson.
A hand-picked triumvirate will support SEPULTURA on their upcoming European headliner tour – amongst them Dutch warbeasts LEGION OF THE DAMNED who cordially invite you to a lethal midtempo death / thrash moshpit with "Ravenous plague"! The follow-up to "Descent into chaos" (2011) will be released in December 2013.
A real treat for all old school fanatics will be the participation of FLOTSAM & JETSAM! The American thrash legends made heads turn in the 80s with much-hailed cult albums such as "Doomsday for the deceiver" and have proved in 2012 with "Ugly noise" how to combine a modern approach with classic aggression.
The openers of the tour are the youngsters of the line up at the same time: MORTILLERY from Canada pose the perfect equilibrium between classy modern thrash metal and a profound love for the old school. These dudes from Edmonton sound a lot like the glorious days and bands like Nuclear Assault…just check out their brand new album "Origin of extinction"!
Old school, new school – the "The mediator between head and hands must be the heart" tour will unite thrashers of each and every kind!
SEPULTURA Tour 2014
Sepultura
Legion of the Damned
Flotsam & Jetsam
Mortillery
TOURDATES
07.02.2014 DE – Bochum, Matrix
08.02.2014 DE – München, Backstage /w Suicidal Angels, Fueled by Fire, Lost Society
09.02.2014 DE – Aschaffenburg, Colos-Saal
10.02.2014 DE – Hamburg, Markthalle
11.02.2014 DK – Esbjerg, Tobakken
12.02.2014 DE – Osnabrück, Rosenhof
13.02.2014 DE – Berlin, C-Club
14.02.2014 PL – Katowice, Megaclub
15.02.2014 DE – Glauchau, Alte Spinnerei
16.02.2014 CZ – Zlin, Masters of Rock Club
18.02.2014 SK – Zilina, Smerr Club
19.02.2014 AT – Wien, Arena
20.02.2014 AT – Salzburg, Rockhouse
21.02.2014 DE – Stuttgart, LKA Longhorn
22.02.2014 CH – Pratteln, Z 7
23.02.2014 DE – Saarbrücken, Garage
24.02.2014 FR – Lyon, CCO Villeurbonne
25.02.2014 FR – Toulouse, Bikini
26.02.2014 ES – Barcelona, Salamandra 1
27.02.2014 ES – Madrid, Arena
28.02.2014 PT – Lisbon, Paradise Garage
01.03.2014 ES – Pamplona, Totem
03.03.2014 FR – Caen, Cargo
04.03.2014 FR – Rennes, L´Antipode
05.03.2014 FR – Paris, Trabendo
06.03.2014 NL – Den Haag, Paard
07.03.2014 NL – Enschede, Atak
08.03.2014 BE – Antwerp, Trix
09.03.2014 NL – Eindhoven, Effenaar
Tickets: www.nuclearblast.de/tickets
www.sepultura.com.br | www.facebook.com/sepultura | www.nuclearblast.de/sepultura