SEVEN KINGDOMS Unveil New Album Title and Artwork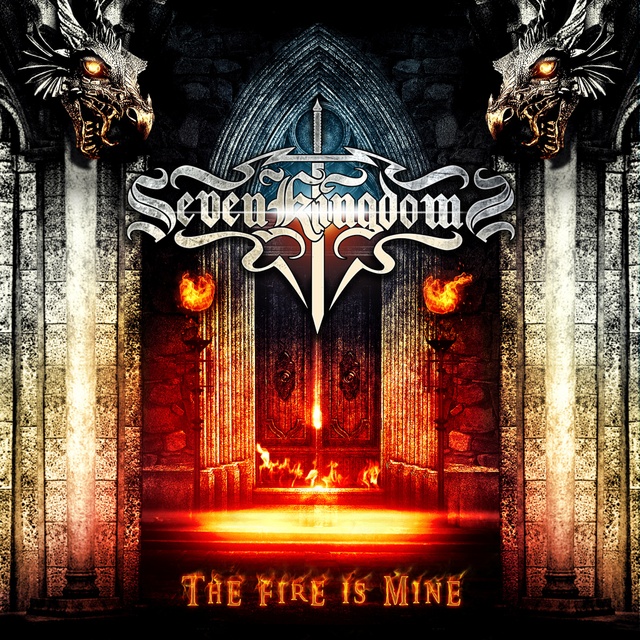 Sign New Deal With Nightmare Records
Florida power metallers SEVEN KINGDOMS have completed work on their latest album which is titled The Fire is Mine. In May of 2012 the band entered Morrisound Studios to create a record powerful enough to hang with the best in metal. With legendary producer Jim Morris (Iced Earth, Obituary, JOP, Jag Panzer etc) at the helm and much more experience gained, SEVEN KINGDOMS created their next melodic power thrash opus.
Upon completion of the recording of their new album, SEVEN KINGDOMS signed an extension of their deal with Nightmare Records. The Fire is Mine will be unleashed on October 9, 2012.
The Fire is Mine, the third offering from Florida's SEVEN KINGDOMS, shows a great solidification in their sound and direction; they've amped up every aspect from song writing, vocals to production and live performance. This one goes to eleven on all counts – including the number of tracks! The vocals and beautiful crystalline melodies of Sabrina Valentine are uniquely set in a furious power/thrash metal attack, blended with epic choirs and the occasional beer-chanting of the men of SEVEN KINGDOMS.
Shortly after the release of their Nightmare Records debut Seven Kingdoms (their second release, but first featuring Sabrina Valentine) SEVEN KINGDOMS played the opening party at ProgPower USA and was then handpicked by the legendary German power metal band, Blind Guardian, to open their 2010 North American tour, which saw the band playing in front of thousands of metal fans throughout USA and Canada. SEVEN KINGDOMS went on to play several one offs and smaller tours in 2011 ending with the "Uniting The Powers Of Metal" tour alongside other uprising power metal acts such as Artizan, Creation's End and Widow. The band capped off 2011 signing endorsement deals with Engl Amplification and Warwick Basses / Amps.
A band started for fun, found that hard work and dedication to their craft has major pay offs… SEVEN KINGDOMS is carving its own path in metal history creating something genuinely unique, yet undeniably metal with their latest and greatest album.
For More Information Visit: