Ecco qui il comunicato di questo interessantissimo festival hard rock in Germania:
Hey Friends of Hard Rock, Sleaze-, Glam-, and Hair Metal!
It's maybe a surprise for some of you, but the biggest indoor Festival for Sleaze-, and Glam Rock is going into round 3, this time on 13th October 2012 in 58300 Wetter / Ruhr (15 Km in the east of Bochum) (Stadtsaal Lichtburg)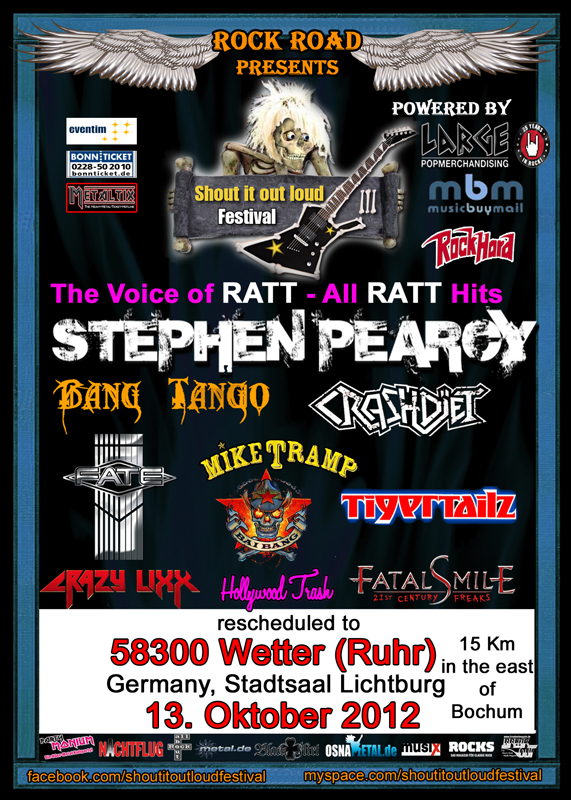 HEADLINER STEVEN PEARCY, The Voice of RATT After months of negotiation we proudly announce the headliner of the 3rd Siol Festival. Steven Pearcy of Ratt. He will play a 90 minutes set with a very best of RATT!!! This has not happen in Germany since 15 years, and it won't happen again that fast. So be excited of a concert with all hits of one of the most famous Sleaze Rock band in the world. Ratt sold over 20 million records.
CRASHDIET(SWE) The first band that confirmed the performace for October 2012, after they had to cancel the show in March due to physical issues. The shooting stars of the European hair metal scene are glad to play in Germany again and kick some asses!
BANG TANGO (USA) After a lot of requests we managed to get US band BANG TANGO. The band already exist since 1987 and now in 2012 with a brand new record called "Pistol Whipped in the Bible Belt" they will play a best of show at the festival.
Mike Tramp (DK) No one else than MIKE TAMP, singer and songwriter of WHITE LION and FREAK OF NATURE plays an exclusive acoustic-set with popular songs of both bands. Mega-Songs like "When the Children cry", "Broken Heart" or "Little Fighter" will convert the audience in a big choir and an ocean made of lighters! For sure a further highlight of 3rd SIOL. Mike Tramp is the last band confirmation for October.
FATE (DK) The danish FATE, founded in 1984 are for over 25 years one of the best and most popular Scandinavian AOR bands! Last German appearance in 2004 , the band created a buzz on the Impact Festival.
Hits like "Hard as a Rock" or "Hunter" will excite every melodic rock fan. Their recent highly acclaimed album "Ghosts from the Past" got praised to heaven in all rock magazines! The sound of hard rock of the 80's lives and FATE understand it skillfully to combine guitars, keyboards and vocals, so as to create a unique force in their ultra-melodic songs, and without sounding dusty. Another exclusive highlight on an exclusive, prestigious festival! Do not miss it!
FATAL SMILE (SWE) The swedish guys from FATAL SMILE are now taking their piece of the big Sleaze rock cake in Europe. After they reached GOLD in Sweden they are now coming to Germany to show us a real sleazy freak show. Don't miss this chance, Fatal smile is a rarity in Germany.
TIGERTAILZ (UK) With TIGERTAILZ you will see the most famous glam band from the UK. The boys from Wales will take the long trip to Germany to kick some ass with hits like "Love Bomb Baby" & "Living without you".
CRAZY LIXX (SWE) Most of you will remember CRAZY LIXX from the first edition of the Siol festival. The band is already an important part of the European sleaze rock league and already played themselves in our heart. And thats why we have been forced to bring them back. So lock up your daughters, 'cause the boys are back!
BAI BANG (SWE) BAI BANG is not a newcomer of the Swedish Hard rock scene. They have been in the business for a long time. Their first record was released in 1989. Until 1996 the band released 2 more CD's which both presented classical hard- and Sleaze rock. BAI BANG will play an exclusive Gig on the Siol Festival and the band behind singer Didi Kastenhold is already on heat and can't wait to meet the German crowd.
The regular Hard tickets are available for only 45 € on the following email address:
tickets@rock-road.de
Through this address you can also order the still limited VIP tickets for € 100.
VIP ticket owners get a VIP pass with access to the VIP lounge, drinks for free until the limit of 10, – €, a big  festival posters, free appetizers, and this year are also exclusive Meet 'greets with all the bands in the VIP lounge! Among the VIP ticket owners will also spot a signed (by all the bands) festival guitar raffle!
Additionally, you can also order the tickets at the following ticket shops:
Eventim Metaltix Cologne-Bonn ticket