SIRENIA – First Albumtrailer released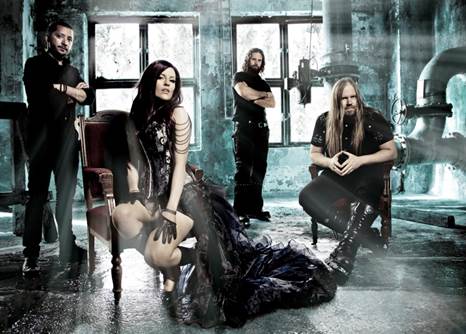 The upcoming new SIRENIA record is called »Perils Of The Deep Blue« and will be out on June 28th on Nuclear Blast Records.
The band completed the first trailer with impressions from the studio and some cool information, watch here: http://www.youtube.com/watch?v=leAT0_KMsxQ
The tracklist of the ltd. digipak edition – including two bonus tracks – reads as follows:
01. Ducere Me In Lucem
02. Seven Widows Weep
03. My Destiny Coming To Pass
04. Ditt Endelikt
05. Cold Caress
06. Darkling
07. Decadence
08. Stille Kom Døden
09. The Funeral March
10. Profound Scars
11. A Blizzard Is Storming
Bonus:
12. Chains
13. Blue Colleen

Regarding his thoughts on the new album, vocalist and guitarist Morten Veland comments: "The entire band and all the people we are working with are absolutely ecstatic about it! This album takes SIRENIA to the next level and brings many new sides of us to the table. There's typical tried and tested SIRENIA stuff but also approaches that you've never heard from us before. I think I've never felt so good about an album throughout my entire career. I mean, I love them all, but this one is something special. It's the result of two and a half years of blood, sweat and tears. I've literally put my heart and soul into this record, so I am very curious to see what our fans as well as the press will think about it!"
»Perils Of The Deep Blue« was produced by the mastermind himself, while the mixing and mastering was done by Endre Kirkesola in Dub Studios, Oslo. "The writing process has been going on for about two years", states Veland. "I always have ideas for new stuff, so I started writing even before we had released our previous album »The Enigma Of Life«. Most of it has been recorded in my own studio. I love to work there as I always feel inspired – plus we can take our time with whatever we do, for there is no time pressure. Just like for all of our previous albums, we also dropped by Sound Suite Studios in France – a great place that feels like home, too. This time we recorded the Marseille choir there that one can always hear on our records, as well as some of my acoustic guitar parts."
The album artwork was originally painted by Anne Stokes – though it wasn't intentionally created to be used as such, as Morten explains: "I came across the artwork on the Internet and immediately fell in love with it for obvious reasons – it's no secret that I've always been fascinated by Greek mythology and sirens. So we got in touch with Anne and luckily she granted us the permits to use it for the record. I actually drew the inspiration for the album title »Perils Of The Deep Blue« from the artwork. In my opinion, it's the perfect SIRENIA cover – there was no way we could have let that opportunity slip away!"
More news on »Perils Of The Deep Blue« to follow soon – stay tuned!
www.sirenia.no | www.facebook.com/sirenia | www.nuclearblast.de/sirenia