SKINFLINT "ILKWA" – Cover, Tracklist, release date: 27th September 2013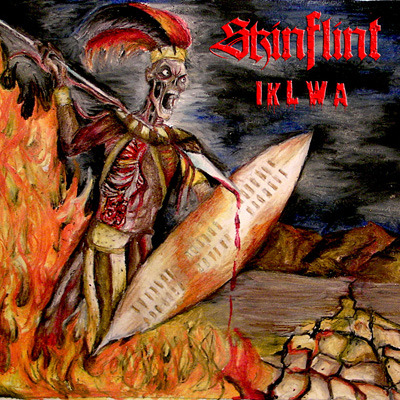 The release date of the SKINFLINT album "IKLWA" is September 27th, 2013. The preorder phase will start on September 13th, 2013 in our webshop.
The third longplayer "Dipoko" of the African Heavy/Epic Metalheads SKINFLINT was already released by Pure Steel Records recently. Now their 2nd album "IKLWA" is going to be re-released, since this was only available in minimal quantities up to now.
Again cranky Epic Metal is ruling the album, which causes slight memories to bands like Manilla Road or Cirith Ungol. However, the old heroes aren't only copied at any time, cause the band got an own independent, bone dry and warm retro sound. Catchy riffs are hitting expansive rhythmic structures and the gnarly guitar sound is calling also bands like Realm Builder in the mind. Together with the more rough vocals and the genre-typical hand-drawn cover this is another gem for any true metal maniac.
TRACKLIST:
1. Intro
2. Iron Pierced King
3. Mbube The Great
4. Burning the Soul with Diesel
5. Iklwa
6. The Fallen
09. Army Of The Dead (Bonus Track)
10. Gauna Live (Bonus Track)
Total Playing Time: 53:50 min
LINE-UP:
Giuseppe "Juice" Sbrana – vocals, guitars
Kebonye "Raskebo" Nkoloso – bass
Mothusi "Cool" Mahuri – drums