SKINFLINT "Dipoko" – Cover, Tracklist, release date: 26th July 2013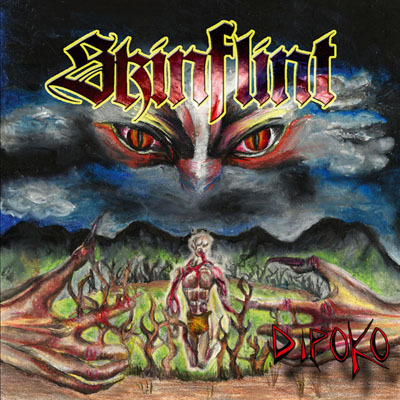 The rerelease date of the SKINFLINT album "Dipoko" is July 26th, 2013. The preorder phase will start on July 12th, 2013 in our webshop.
SKINFLINT is a band from (ATTENTION!) Botswana. The third studio album "Dipoko" will be released on CD by Pure Steel Records. At the end of last year, this album was released by Metal Records on CD-Rom, and it offers classic, flawless metal of the best kind. This album features a very basic, dry sound, that suits the songwriting very well. You can still hear the influences of the early US-Epic/Heavy-Metal, but the songwriting of the nine tracks on "Dipoko" is more independent and catchier than on the album before ("Iklwa"). There are some very good sing-along-tunes like "Iron Mamba", or "Blood Ox Ritual", which has a very traditional beginning with African drums. These songs will surely make SKINFLINT one of the favourite bands of metal-gourmets.
African barbarian steel: this term will now be reserved for SKINFLINT exclusively!
TRACKLIST:
1. Dipoko
2. Lord Of The Night
3. Blood Ox Ritual
4. Dreams Of Eternity
5. The Warrior Dance
6. Olitiau
7. Iron Mamba
8. Mask Of Death
9. Gboyo
Total Playing Time: 38:41 min
LINE-UP:
Giuseppe "Juice" Sbrana – vocals, guitars
Kebonye "Raskebo" Nkoloso – bass
Sandra Sbrana – drums