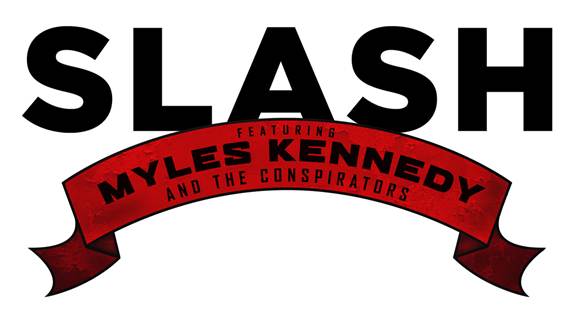 SLASH featuring Myles Kennedy and The Conspirators
Ljubljana – Hala Tivoli, February 8th 2013
On February 8th there will be a rock culture holiday – SLASH, famous guitarist and true rock icon is coming to Ljubljana, Slovenia!
SLASH featuring Myles Kennedy (vocalist and guitarist of hard rock band Alter Bridge) and The Conspirators  is on the world tour intensively promoting their latest album »Apocalyptic Love«.
Concert reports are enthusiastic – the show is more than two hours long, high energetic, charismatic and virtuous rock performance. Set list includes the best songs of Slash's repertoire from all periods (Slash's Snakepit, Velvet Revolver, Guns N'Roses and songs from solo albums).
"It's difficult to pinpoint what exactly made this show so special. One thing is for certain: this was undeniably the best – and the most puzzling – rock concert this writer went to in 2012 so far. Better than Black Sabbath, Robert Plant, or G3…Start analyzing what went on last night, and it all begins to fall apart: the songs were great, yet devoid of cosmic ambition. The musicianship was flawless, but without displays of high tech wizardry. Miles Kennedy's voice was in great shape, but not consistently impressive. The magic meanwhile hid in the grooves, in how the guitar swung with them and around them, in how the rhythm section took subtle liberties with the meter, and in the Slash's tone which always is a whopper, and even more so live… On the ball, effortlessly classy, but at the same time not afraid to reach deeper than what rock as a genre expects of musicians these days, Slash is the most with-it torch-bearer of classic rock values. His relationship between heart and mind is always direct, never stylized, but at the same time he understands style so perfectly that this is where his personality shines at its best. " (Alissa Ordabai, hardrockhaven)
SLASH, Myles Kennedy and The Conspirators are inviting all fans to come to Ljubljana, on Friday, February 8th 2013 and rock with them!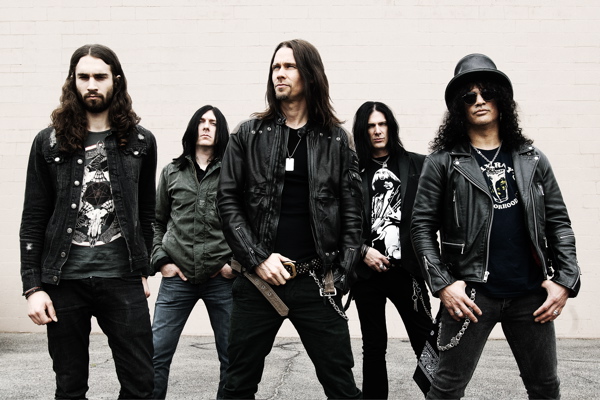 Photos: Travis Shinn
 Tickets available at www.eventim.si
SLASH – BIOGRAPHY 2012
"It's been an interesting road from the mid 90s up until now," says Slash.  "I never stopped to think, 'What am I gonna to do in the long term?' Or ruminated on my solo career, where it was heading. I've just been jamming around, going wherever the muse has taken me. And this is the first time where I feel like I'm in the saddle and riding my own destiny with some genuine focus."
For fans who've tracked the broken glass and ruby slipper journey of Guns N' Roses lead guitarist since the release of Appetite for Destruction two days before his 22nd birthday 25 years ago this July, one can't help but be radioactive with enthusiasm. Apocalyptic Love is not just a new record by the storied musician with the black top hat and magical gift for riff, for Slash and his three co-conspirators; it is, indeed, destiny. And everyone involved is poised for the ride.
The liberated feel of Apocalyptic Love is evident throughout the LP's 13 songs, as is the genuine chemistry between Slash and lead singer, Myles Kennedy. The evolution of their creative relationship went full throttle since the two first joined forces on Slash's 2010 debut solo release where the Alter Bridge front man lent his pipes to the cavalcade of venerable guest vocalists which included Iggy Pop, Ian Astbury and Ozzy Osbourne.
The Slash/Kennedy collaboration started from intuition. "I contacted him out of the blue, sent him one of the songs I was working on which turned out later to be 'Starlight'. After Myles contributed his ideas and sent it back to Slash, creative forces congealed.  "I went, 'Wow, now that'sreally good," recalls Slash. "I played it for Eric so we flew Myles out to track it and this unassuming mild mannered guy shows up, similar in demeanor to me, sort of quiet, not really explosive in personality. He then nailed "Back from Cali" it was like, 'You ready to go on tour with us?' I was so happy when he accepted the offer." For the Boston-born lead singer of the Florida-based hard rock quartet, Alter Bridge, the gig was an opportunity to expand his personal portfoliowhile exploring some musical synergy with an artist he'd long admired.
"What I love so much about Slash's playing is the immense emotion he devotes to his craft," says Myles.  "There is a certain ache to the way he bends a note, the vibrato. He plays so brilliantly on this record, as he has on all the records he's made, but there's a touch more beautiful pain in his technique now. Being a guitar player myself, I'm just in awe of his method and style."
The modern master of the Gibson needed a rhythm section to flesh out his frenetic and fanciful chords.  After auditioning a lot of drummers, he settled on Brent Fitz. "He was perfect,"  Slash enthuses.  "And Brent introduced me to Todd Kerns who was not only an awesome bass player but hesings like a motherfucker. It was really magical – a throw together band that was just right."
Few will argue that Slash has evolved with grassroots relevance and reverent pace over the past decade where he now rightfully belongs in the pantheon of axe mythology, having been selected by a Time Magazine survey as second only to Jimi Hendrix among electric guitarists. Staying focused on your current musical project whilst in the midst of swelling adulation and swirling speculation is no easy feat. But somehow, Slash manages to keep his eye on the apocalyptic prize.
"I know that GN'R's induction into the Hall of Fame and the 25th anniversary of Appetite are on a lot of people's minds," admits Slash.  "But when you're making a record, you just commit to keeping those distractions out of the process. You have to sort of roll with everything as it happens."
When you're a quarter century into your career, how do you maintain personal clarity and connection to your fans? Slash makes no secret that he enjoys the tools of social networking and new technology. "I don't consider Twitter and Facebook a distraction,"  he says. "It keeps me in touch with the fans. That's always been something I feel very strongly about given the opportunity through new media and the Internet –which is of course a double edged sword –  YouTube all that stuff is a way an artist can stay toe to toe with the people.  I never liked to alienate myself but rather made an attempt to let the fans know where I was playing and invite them along to rock out, sort of makes me feel like I was part of a big gang –we're all doing this together."
Much to the delight of old and new fans, Slash's resume builds along with his worldwide fan base.  Since making history and amassing global sales in excess of 100 million units with Guns N' Roses, returned with Slash's Snakepit in 1994, followed by Velvet Revolver's two hit LPs, 2005'sContraband (for which the single, "Slither" won a Grammy for Best Hard Rock performance) and 2007's Libertad. Finally, Slash reemerged with his groundbreaking, guest-star studded 2010 solo debut. In 2011, Slash was honored by the Hollywood Chamber of Commerce who named him as an official selection to receive a star in 2012 on Hollywood's iconic Walk of Fame. After making numerous session appearances and lending his laid-back, six-string genius to an eclectic mix of artists which include Michael Jackson, Ray Charles, Stevie Wonder, filmmakers Quentin Tarantino and Darren Aronovsky; not to mention Guitar Hero III: The Legend of Rock and co-authoring a bestselling memoir–the question begs: What's next for the London-born, L.A. schooled kid who discovered his musical soul when his father played him the Beatles, Stones and Yardbirds?
"Touring Apocalyptic Love and having a great time," Slash says humbly.  "As long as I can plug my Les Paul into a Marshall amp, I'll just keep doing what I'm doing."