SONATA ARCTICA – 'The Wolves Die Young' video clip released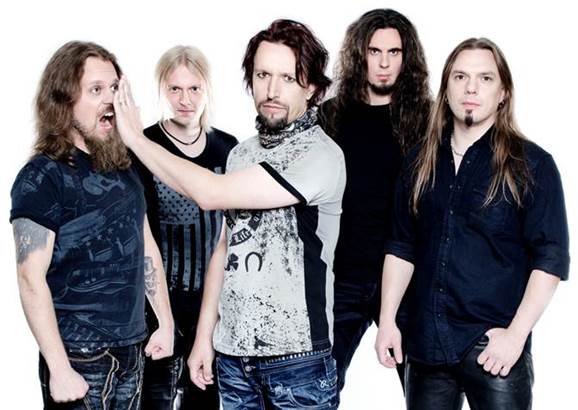 With the release of their new record »Pariah's Child« coming up, Finnish Melodic Metal quintet SONATA ARCTICA have now put out the official music video on the track 'The Wolves Die Young'. The video is available to watch here: http://www.youtube.com/watch?v=pGp0kms-GEk
Commented frontman Tony Kakko: " 'The Wolves Die Young' was pretty much born to be a single. And it is. It also paved the road for the rest of the album. Set a mood in a way. It just felt real good to start with. 2014 is a year of a wolf."
The video shoot for 'The Wolves Die Young' took place in January 2014 at Sibelius House in Lahti, Finland. The clip was produced by Patrick Ullaeus of the Revolver Film Company.
More on »Pariah's Child«:
Studio trailer 1 featuring drummer Tommy Portimo, click here: http://youtu.be/Q0WTxiNlVHU
The second one with Pasi Kauppinen can be seen here: http://youtu.be/W5Czn5qyG94
And their 3rd studio trailer, featuring Elias Viljanen, here: http://www.youtube.com/watch?feature=player_embedded&v=jB2hkg6jQcs
Studio trailer # 4, featuring Henrik Klingenberg. Watch it here: http://youtu.be/fUa01uAyNTg
On March, 28th the new SONATA ARCTICA album »Pariah's Child« will be released.
The tracklist reads as follows:
01. The Wolves Die Young
02. Running Lights
03. Take One Breath
04. Cloud Factory
05. Blood
06. What Did You Do In The War, Dad?
07. Half A Marathon man
08. X Marks The Spot
09. Love
10. Larger Than Life
The album was recorded and produced by the band at "Studio 57" in Alaveteli, Finland. The mix was done by the band's new bass player Kauppinen.
Pre-order »Pariah's Child« here: http://smarturl.it/SONATA-Pariah
www.sonataarctica.info | www.facebook.com/sonataarctica | www.nuclearblast.de/sonataarctica