TESTAMENT – 'Rise Up' official live clip released!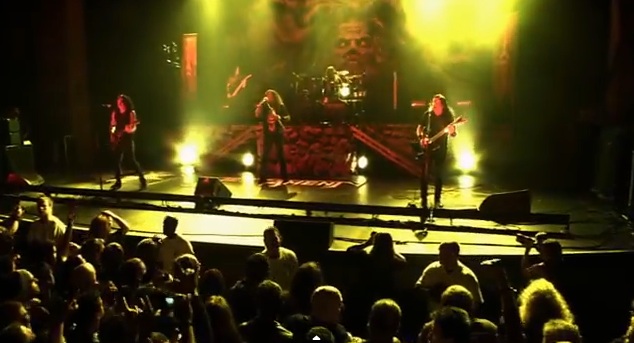 Taken from their upcoming new DVD »Dark Roots Of Thrash«, Bay Area Thrash Veterans TESTAMENT have just unleashed the first track 'Rise Up', check out the video clip here: http://youtu.be/B81K2qKF-1M
The DVD/2CD documents TESTAMENT's sold-out headlining performance at the Paramount in Huntington, NY this past February and will be made available on October 11th (Europe) and October 15th (North America) via Nuclear Blast!
»Dark Roots Of Thrash« was produced by Get Hammered Productions, directed by Tommy Jones (DEATH ANGEL, KATAKLYSM, SOILWORK) and mixed by Juan Urteaga (VILE, EXODUS, SADUS, MACHINE HEAD). It captures a total of 19 live tracks with countless cams onstage and high above the audience, plus a special moshpit cam that makes you feel like you're a part of the show!
Vocalist Chuck Billy added: "For all you die-hard Metal heads out there »Dark Roots Of Thrash« is a must have for your collection. This live DVD and CD is something you can put in you player and crank up for the feeling of a live TESTAMENT performance! You will get 18 songs from the early days of Thrash Metal to where we are today. Heavy Metal forever!"
»Darks Roots Of Thrash« will be made available in a variety of different formats including the standard DVD+2CD and 2CD versions. A limited Bluray+2CD (Europe only), LP (Europe only) and more will be for sale via http://smarturl.it/TestamentDROT.

»Dark Roots Of Thrash« DVD/2CD track list:
DVD:
01. Intro
02. Rise Up
03. More Than Meets The Eye
04. Burnt Offerings
05. Native Blood
06. True American Hate
07. Dark Roots Of Earth
08. Into The Pit
09. Practice What You Preach
10. Riding The Snake
11. Eyes Of Wrath
12. Trial By Fire
13. The Haunting
14. The New Order
15. Do Not Resuscitate
16. Three Days In Darkness
17. The Formation Of Damnation
18. Over The Wall
19. Disciples Of The Watch
20. Credits
BONUS CONTENT:
21. Backstage Footage
22. Native Blood (Video Clip)
CD1:
01. Intro
02. Rise Up
03. More Than Meets The Eye
04. Burnt Offerings
05. Native Blood
06. True American Hate
07. Dark Roots Of Earth
08. Into The Pit
09. Practice What You Preach
CD2:
01. Riding The Snake
02. Eyes Of Wrath
03. Trial By Fire
04. The Haunting
05. The New Order
06. Do Not Resuscitate
07. Three Days In Darkness
08. The Formation Of Damnation
09. Over The Wall
10. Disciples Of The Watch
»Dark Roots Of Thrash« 2CD track list:
CD1:
01. Intro
02. Rise Up
03. More Than Meets The Eye
04. Burnt Offerings
05. Native Blood
06. True American Hate
07. Dark Roots Of Earth
08. Into The Pit
09. Practice What You Preach
CD2:
01. Riding The Snake
02. Eyes Of Wrath
03. Trial By Fire
04. The Haunting
05. The New Order
06. Do Not Resuscitate
07. Three Days In Darkness
08. The Formation Of Damnation
09. Over The Wall
10. Disciples Of The Watch
www.testamentlegions.com/ | www.facebook.com/testamentlegions | www.nuclearblast.de/testament