THE BIG TEUTONIC 4 – wrap up legendary performances at Beastival Open Air, exclusive press photo available!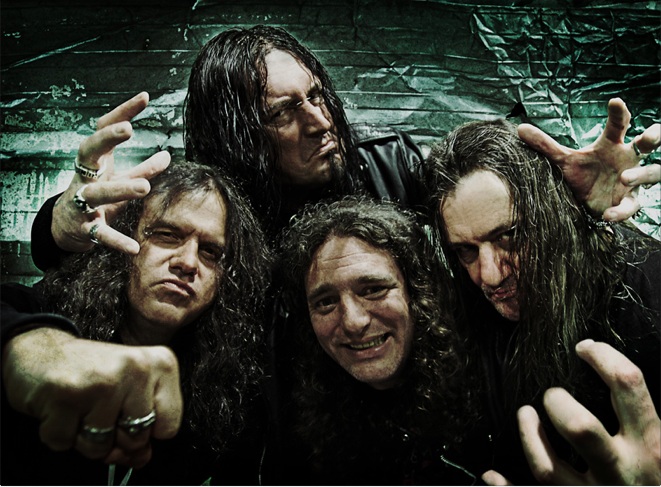 The day the thrash metal world had waited for for so long had come past Thursday at Beastival Open Air in Geiselwind, Germany when THE BIG TEUTONIC 4, German thrash legends KREATOR, SODOM, DESTRUCTION and TANKARD performend in front of thousands of enthusiastic metalheads!
Now, all four bands share their memories and thoughts of this memorable night. An exclusive photo that had been taken after the shows by renowned artist Stefan "Heile" Heilemann of Heilemania (www.heilemania.de) can be found attached.
Please spread the band's quotes and photo everywhere and feel free to get in touch if you need a hi-res version of the photo.
"My personal highlight were the fans! We had real bad luck with the weather and during our gig there was not just heavy rain but also a real storm so that it would rain on stage all the time. Our fans once more proved to be the toughest and best in the world and partied with us till the end. Touching and impressive at the same time. Beastival was a KILLER festival overall!" – KREATOR, Mille Petrozza
"Beastival was a special event for SODOM. THE BIG TEUTONIC 4 sharing the same stage… this event will go down in history. Aside of that everything else was just classy as well. I've barely experienced a festival as well-organized as this. And a special thank you also goes out to all the metalheads that stuck with us despite the heavy rain and made this festival a memorable and great experience for all of us! We're hoping on a repetition!"– SODOM, Tom Angelripper
"Wow, the day finally had come – after more than 30 years! I had only one thing on my mind all the time: why the hell did it take so long for all of us to play at the same festival? It was truly legendary! This gathering of Germany's four thrash initiators was a class reunion with a killer audience who had a hard time because of the constant rain. My deep respect for as much love for uncompromising rock music! KILLER! Personally, I would be very delighted to do a mutual tour with the so called BIG TEUTONIC 4! DESTRUCTION would definitely be on board… metal fans worldwide are waiting for this, that's for sure! Thanks, Beastival, for this food for thought and the amazing time! Let's hope that whatever comes afterwards will go down in history as well!" – DESTRUCTION, Schmier
"It was amazing to see THE BIG TEUTONIC 4 share a stage after more than 30 years! Many thanks to the fantastic crowd that made this event a memorable one – despite the constant rain! This definitely demands more! Thrash Metal will never die!" – TANKARD, Gerre