THE DEFILED – discuss their stage outfits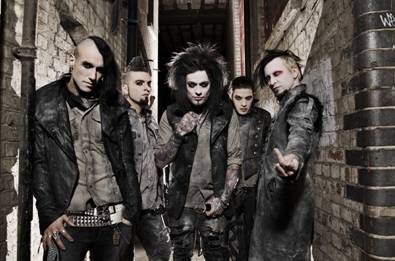 THE DEFILED's crushing new album »Daggers« and first for Nuclear Blast Entertainment is set for release on August 2nd. In anticipation of the release vocalist Stitch D. and keyboardist The AvD were asked about the band's stage outfits and the relevance behind them – in return, the guys gave us a sneaky peak into how the new outfits look and what fans can expect. Check out the clip here: http://youtu.be/BnaPew7EX2Q.
Moreover, the band offers a free download of their track `Unspoken´ in a remixed version, done by keyboardist The AvD. Grab it here: http://bit.ly/UnspokenRemix
»Daggers« follows the band's debut album »Grave Times« (2011), which secured the band's status as one of the UK's most successful unsigned metal acts.
The full tracklisting for the »Daggers«Limited Digpak CD is:
1. Sleeper (4:00)
2. Unspoken (4:05)
3. Saints And Sinners (3:49)
4. As I Drown (4:41)
5. Porcelain (3:23)
6. New Approach (3:09)
7. Fragments Of Hope (4:30)
8. The Infected (4:01)
9. The Mourning After (4:14)
10. Five Minutes (4:38)
11. No Place Like Home (4:44)
Bonus tracks:
12. I Destroy What Destroys Me (4:16)
13. Self Under Siege (3:25)
Pre-order »Daggers« here: http://smarturl.it/DaggersCD
THE DEFILED are confirmed as main support to MOTIONLESS IN WHITE on their upcoming UK tour in September:
12 Sept // Dublin Academy 1
13 Sept // Belfast Mandela Hall
14 Sept // Glasgow Garage
15 Sept // Newcastle O2 Academy 2
16 Sept // Manchester Academy
18 Sept // Leeds Cockpit
19 Sept // Nottingham Rescue Rooms
20 Sept // Birmingham O2 Academy 2
21 Sept // London The Forum
22 Sept // Bristol The Fleece
23 Sept // Portsmouth Wedgewood Rooms
Also be sure to watch
track-by-track pt.1: http://youtu.be/pL4XAUaIZNM
track-by-track pt.2: http://bit.ly/12BFUJQ
track-by-track pt.3: http://bit.ly/16j37TF
the official `Unspoken´ video clip: http://bit.ly/13iSDoL
the making-of `Unspoken´: http://bit.ly/13ixTgQ
www.facebook.com/thedefiled | www.nuclearblast.de/the-defiled