Frontiers Records is pleased to announce the signing of an exciting brand new British 3 piece rock band called THREE LIONS. This new band consists of Vinny Burns (Dare, Ten, Asia) on guitars, Greg Morgan (Dare, Ten) on drums and introduces the talents of Nigel Bailey on vocals and bass guitar.
THREE LIONS formed when Vinny, Greg and Nigel were introduced by Frontiers Records President Serafino Perugino to producer Alessandro Del Vecchio at Firefest in October 2012. The guys hit it off straight away and immediately set about writing new material for an album. The songs were written without an agenda and these songs were sent to Perugino for consideration, who loved the material and immediately commissioned an album.
12 songs were chosen, (2 of which see the band collaborating with Del Vecchio) and recording commenced at The Viper Room and Coil Tap Studios in the UK and then at Ivory Tears Studio in Milan, Italy.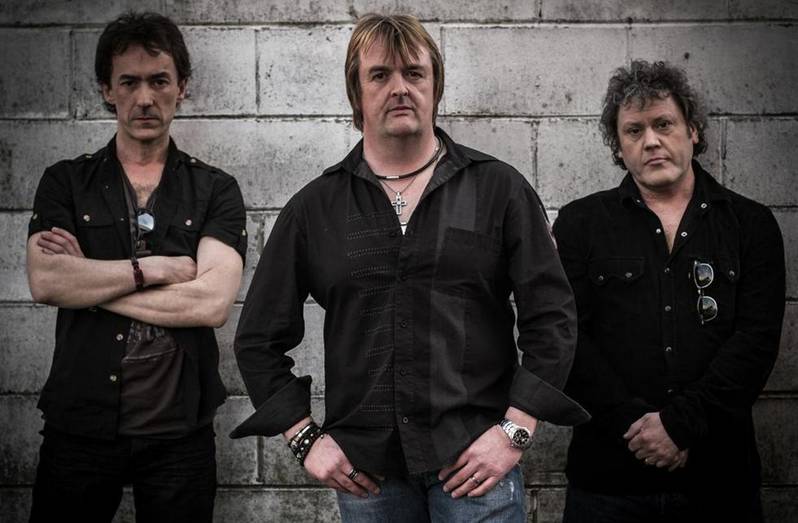 L to R: Greg Morgan, Nigel Bailey, Vinny Burns
"We set out to write good songs, the only criteria was that all of us liked them" said Nigel Bailey, "Working with Vinny and Greg has been a blast and we were all determined to make the best album possible and are immensely proud of the songs that have made it onto the final record". From the eastern influenced Kathmandu, to the driving power of Hellfire Highway and Twisted Soul, to the heartfelt ballads Made For One Another and Don't Let Me Fall. This new album in the works promises to deliver passionate performances from the guys. Vinny's trademark guitar work is, as you would expect, filled with emotion and feel. "I wanted to start with a blank canvas for the guitars" says Vinny. "This album allowed me to show a different side to my playing whilst retaining the familiar sound and feel fans of Dare and Ten will recognise". "Working with Vinny again has been great fun and Nigel brings something new to the table" said Greg. "This is definitely a record made by a band, not just a studio project, and that really comes across in the songs. We had an instant connection as musicians but also as people and we cannot wait to get out and perform these songs live soon". Check them out at www.facebook.com/threelionsuk.
THREE LIONS make their live debut supporting SNAKECHARMER at the Manchester Academy on Friday June 21st 2013 – Hear The Roar!!!