WE CAME AS ROMANS – announce VANS MUSIC NIGHT tour dates, offer another new song!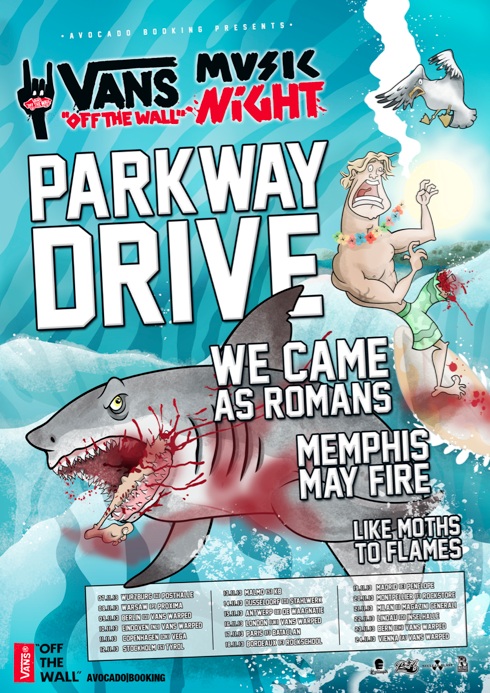 Detroit, Michigan based post hardcore powerhouse WE CAME AS ROMANS have announced to be part of this year's VANS OFF THE WALL MUSIC NIGHT alongside PARKWAY DRIVE, MEMPHIS MAY FIRE and LIKE MOTHS TO FLAMES. See full routing below.
Commented the band: "We're super excited to be coming back to Europe for our fifth time! And this time we're going to be bringing along some new music that we've never been able to play overseas! We haven't been able to tour with Parkway Drive since our very first time in Europe in 2010 on the Never Say Die tour, so it's really exciting for us to be able to support them. We're also on the Vans Warped Tour right now in the States, and it's been amazing – I expect nothing less out of the Europe Vans Warped Tour!"
Furthermore the band has also made another brand new track, 'I Survive', off their upcoming album, »Tracing Back Roots«, available for streaming: http://smarturl.it/WCARISurvive
Two more songs can be checked out here:
'Ghosts': https://soundcloud.com/equalvision/04-ghosts/s-2blNc
'Never Let Me Go': http://altpress.com/features/entry/song_premiere_we_came_as_romans_never_let_me_go
»Tracing Back Roots« will be released July 26 via Nuclear Blast.
Pre-order »Tracing Back Roots« via http://smarturl.it/WCAR-TBR
More on »Tracing Back Roots«:
'Tracing Back Roots' lyric video: http://youtu.be/j1Cn7IN9Hj4
Studio update 1: http://youtu.be/LidZVbNetHY
Studio update 2: http://youtu.be/W78rOqHQ_to
Studio update 3: http://youtu.be/L4k5Ti0KsOE
Studio update 4: http://youtu.be/t23Y16Ojxco

WE CAME AS ROMANS live
14.08. D Hamburg – Logo
15.08. D Dinkelsbühl – Summer Breeze
16.08. B Hasselt – Pukkelpop
17.08. D Grosspösna – Highfield
18.08. NL Biddinghuizen – Lowlands
20.08. D Köln – Underground
21.08. D Übersee am Chiemsee – Chiemsee Rocks

Vans Music Night & Warped Tour Europe
w/ PARKWAY DRIVE, MEMPHIS MAY FIRE & LIKE MOTHS TO FLAMES
07.11. D Würzburg – Posthalle
08.11. PL Warsaw – Proxima
09.11. D Berlin – Arena VANS WARPED
10.11. NL Eindhoven – Klokgebouw VANS WARPED
11.11. DK Copenhagen – Vega
12.11. S Stockholm – Tyrol
13.11. S Malmö – KB
14.11. D Düsseldorf – Stahlwerk
15.11. B Antwerp – De Waagnatie
16.11. UK London – Alexandra Palace VANS WARPED
17.11. F Paris – Bataclan
18.11. F Bordeaux – Rock School Barbey
19.11. E Madrid – Penelope
20.11. F Montepellier – Rockstore
21.11. I Milan – Magazini Generali
22.11. D Lindau – Inselhalle
23.11. CH Bern – Festhalle VANS WARPED
24.11. A Vienna – Stadthalle VANS WARPED
www.wecameasromans.com | www.facebook.com/wecameasromans | www.nuclearblast.de/wecameasromans