WE CAME AS ROMANS – 'Fade Away' music video online!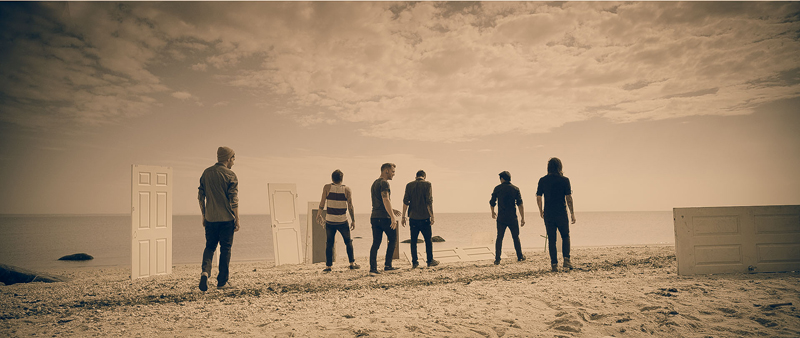 Michigan post hardcore powerhouse WE CAME AS ROMANS have premiered the official video for their anthemic new tune 'Fade Away' – check out the video, here: http://youtu.be/tCdr6d-GqLI
The stunning cinematic video was directed by Rasa Acharya and Dan Kennedy (WE CAME AS ROMANS, SAY ANYTHING) and filmed in New York. The track is taken from the band's new album »Tracing Back Roots«, which was released July 22nd, 2013 via Nuclear Blast.
"Having the whole band involved in the storyline was something we had never done before and we're all very pleased with how it came out," shares vocalist Dave Stephens. "It was also really awesome and different for us to do a video with so many special effects. We had a blast making it and it's always a pleasure to work with Dan and Rasa. This is my favourite video we've ever done."
Order »Tracing Back Roots«:
CD: http://smarturl.it/WCAR-TBR
iTunes: http://smarturl.it/WCAR-TBR-iTunes
More on Tracing Back Roots:
'Tracing Back Roots' lyric video: http://youtu.be/j1Cn7IN9Hj4
Studio update 1: http://youtu.be/LidZVbNetHY
Studio update 2: http://youtu.be/W78rOqHQ_to
Studio update 3: http://youtu.be/L4k5Ti0KsOE
Studio update 4: http://youtu.be/t23Y16Ojxco
WCAR live:
Vans Music Night & Warped Tour Europe
w/ PARKWAY DRIVE, MEMPHIS MAY FIRE & LIKE MOTHS TO FLAMES
07.11. D Würzburg – Posthalle
08.11. PL Warsaw – Proxima
09.11. D Berlin – Arena VANS WARPED
10.11. NL Eindhoven – Klokgebouw VANS WARPED
11.11. DK Copenhagen – Vega
12.11. S Stockholm – Tyrol
13.11. S Malmö – KB
14.11. D Düsseldorf – Stahlwerk
15.11. B Antwerp – De Waagnatie
16.11. UK London – Alexandra Palace VANS WARPED
17.11. F Paris – Bataclan
18.11. F Bordeaux – Rock School Barbey
19.11. E Madrid – Penelope
20.11. F Montepellier – Rockstore
21.11. I Milan – Magazini Generali
22.11. D Lindau – Inselhalle
23.11. CH Bern – Festhalle VANS WARPED
24.11. A Vienna – Stadthalle VANS WARPED
www.wecameasromans.com | www.facebook.com/wecameasromans | www.nuclearblast.de/wecameasromans