WOLFS MOON "Curse The Cult Of Chaos"- Cover, Tracklist, release date: 26th July 2013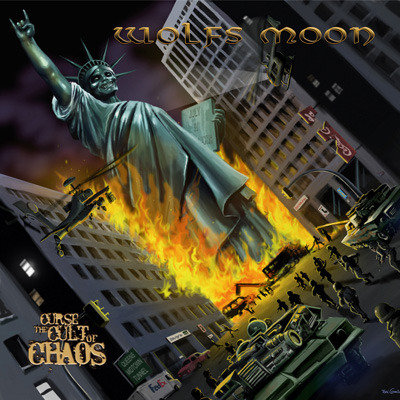 The release date of the WOLFS MOON album "Curse The Cult Of Chaos" is July 26th, 2013. The preorder phase will start on July 12th, 2013 in our webshop.
This bands last studio album "Unholy Darkness" (2008) was released on our label which was then only a small underground label. The fans were quite enthused and might be wondering what has happened to this band from Lower Saxony/Germany?
Five years and one change of vocalist later, the quartet has recorded a new album. "Curse the Cult of Chaos" features twelve sons which are of a somewhat dark and often very groovy power metal, with some unobtrusive insertions of thrash, which all fans of bands like ICED EARTH will love. Robert Rogges vocals are mostly rough and sometimes growled, which makes them outstanding. The highlight of the album is definitely the rock-like, very melodic tribute-song "Undying Legends", which features lots of quotations from other songs and reminds us of metal legends like Ronnie James Dio and Dimebag Darrell. The catchy title track, "Apocalyptomania" (which features some verses in German), or the fat grooving "Ultra Rebel" must not be left unmentioned, because they really offer you good sound. The album has a powerful, contemporary production which does not take away the soul of the guitars and drumming and leaves some necessary edges to the sound.
Traditional power/trash metal in a contemporary appearance: this is exactly what you get with WOLF MOONS latest album!
TRACKLIST:
1. Dead Eyes – Blind Justice
2. Corpses In Candlelight
3. Curse The Cult Of Chaos
4. Undying Legends
5. Apocalyptomania
6. Moribund Vision
7. Dynamo
8. Young At Heart
9. Ultra Rebel
10. Omen Of Nightfall
11. Chaly Skull – Wing
12. Boring Life Of The Undead
Total Playtime: 65:36 min
LINE-UP:
Robert Rogge – vocals
Gerd Simson – guitars
Marco Dammann – bass
Andreas Rinke – drums