AMORPHIS – reveal "Circle" cover artwork and tracklist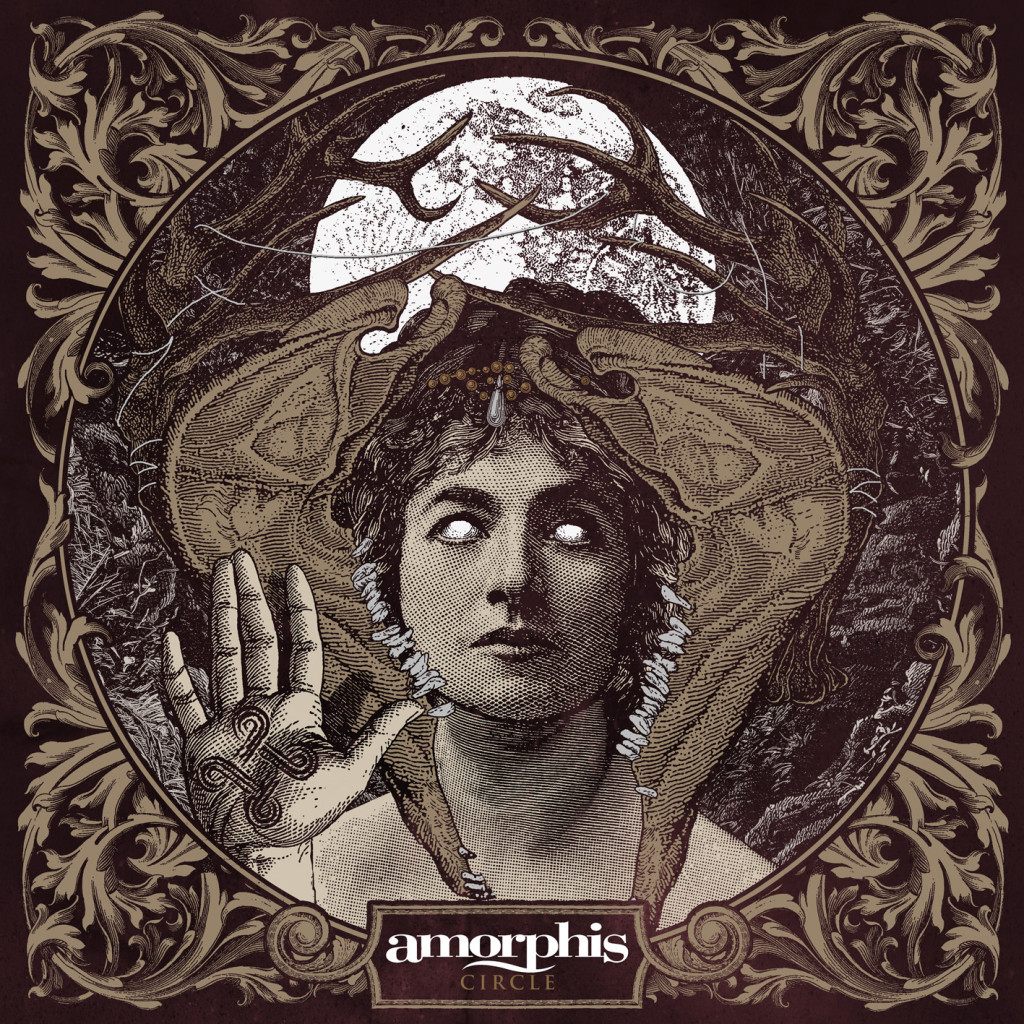 Today,Finnish melancholic dark metal masters AMORPHIS reveal the cover artwork and tracklist of their recently announced 11th studio album "Circle", produced and mixed by HYPOCRISY and PAIN mastermind Peter Tägtgren (CHILDREN OF BODOM, CELTIC FROST, IMMORTAL, DIMMU BORGIR) in Petrax Studio, Hollola (NIGHTWISH, CHILDREN OF BODOM, KORPIKLAANI) as well as in 5K Studios, Helsinki. The record is set to be released via Nuclear Blast on April 19, 2013.
Vocalist Tomi Joutsen comments on the cover artwork, created by Tom Bates (BLEED FROM WITHIN, DEVIL SOLD HIS SOUL – www.facebook.com/artoftombates ) :
"The mystic, androgynous person on the cover represents a spiritual guide. This character was sent from another time and place to help the album's protagonist find a new path for his life."
This very guide was already mentioned by AMORPHIS' lyricist Pekka Kainulainen in his summary of the album concept:
"The protagonist has been dealt a bad hand at birth. He's always felt himself an outsider with strong potential to become marginalized. Through an accident, after a crisis, he finds a connection with his inner powers. A guide is sent to him, from another time and place. He gets a chance to take hold of his own life and change his destiny. From the past of Carelian Finland he finds his own spiritual tribe and the power to turn the course of his doomed life. This is a story of survival."
The tracklist of "Circle" reads as follows:
1. Shades Of Gray
2. Mission
3. The Wanderer
4. Narrow Path
5. Hopeless Days
6. Nightbird's Song
7. Into The Abyss
8. Enchanted By The Moon
9. A New Day
Bonus track:
10. Dead Man's Dream
The album's ltd. digi book version will come with a bonus DVD, including:
– The Making Of "Circle"
– Nightbird's Song (video clip)
Apart from the CD+DVD digi book version, "Circle" will be available on CD (without bonus track), black 2LP in gatefold, brown 2LP in gatefold and as a bulging ltd. box, including 3 bonus tracks + a wristband – exclusively available via the Nuclear Blast mail order.
Pre-order your copy now: www.nuclearblast.de/suche/amorphis_circle
www.amorphis.net | www.facebook.com/amorphis | www.nuclearblast.de/amorphis