ASKA "Fire Eater" – Cover, Tracklist, release date: 27th September 2013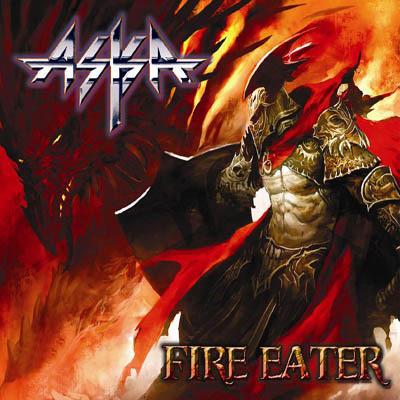 The release date of the new ASKA album "FIRE EATER" is September 27th, 2013. The preorder phase will start on September 13th, 2013 in our webshop.
Not very many US-Metal fans might make a list of their favorite bands of the 80s without ASKA from Texas. The quartet around front man George Call (ex-OMEN) now plays for 23 years and knows how to fascinate the scene. Albums like "Nine Tongues" and "Avenger" (both re-released by Pure Steel) have reached cult status. Their latest studio album was released six years ago, so it's definitely time for something new!
So now we present "Fire Eater": powerful and with lots of drive and passion, as we know from their former albums. Melodic and straight heavy metal with a typical ASKA sound, George's distinctive, rough and high power-voice, perfectly placed high-pitched screams, and some classic Maiden-Twin-leads: everything that a metal fan might wish for can be found on this newest release. The anthem-like "Valhalla", the fast double-bass "Son of a God", "Eye of the Serpent" (which was on EMERALD's "Unleashed" album), or the powerful JUDAS PRIEST-cover version "The Ripper": ASKA always know how to convince their fans!
With "Fire Eater", ASKA show that classic US-metal has not lost its magic!
TRACKLIST:
1. Everyone Dies
2. Dead Again
3. Vahalla
4. Son Of A God
5. Angela
6. Harlot Of Eden
7. Red Cell
8. The Ripper
9. Year Of Jubilee
10. The Last Message
11. Eye Of The Serpent
Total Playing Time: 50:34 min
LINE-UP:
George Call – vocals, guitars
Daren Knapp – vocals, guitars
Keith Knight – vocals, bass
Damon Call – drums