BATTLE BEAST – unveil "Battle Beast" cover artwork and tracklist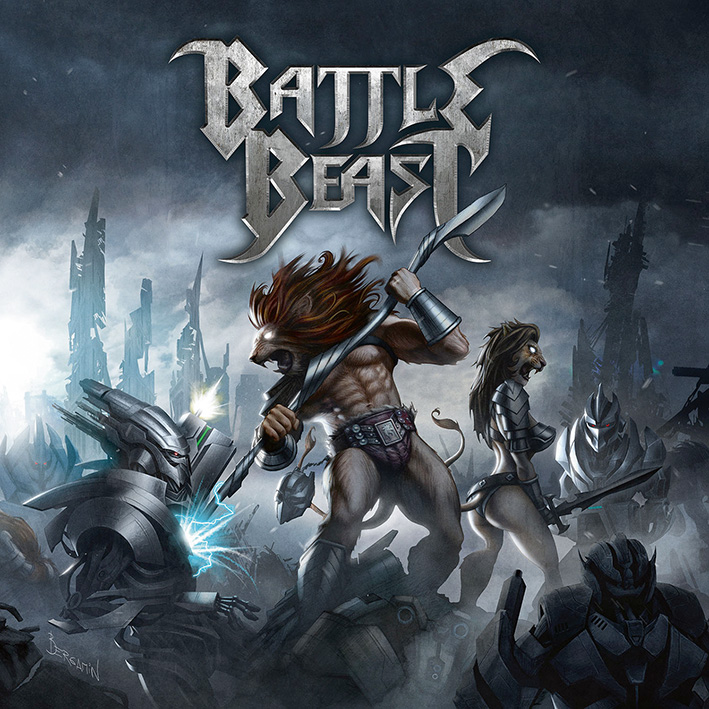 The beasts are back! After last year's release of their brilliant debut record "Steel" and highly celebrated European tours together with NIGHTWISH and SONATA ARCTICA, BATTLE BEAST – Finland's finest in heavy metal – return with new astonishing lead vocalist Noora Louhimo and their second full-length album. Produced and mixed by the band in JKB Studios Helsinki and mastered by Mika Jussila at Finnvox Studios, the new record will simply be entitled "Battle Beast" and is set for a release via Nuclear Blast on May 17, 2013.
Today, the band proudly presents the new album's amazing cover artwork, created by Claudio Bergamin (HALFORD, ARJEN A. LUCASSEN, MAGICA – www.claudiobergamin.com).
The band has uploaded a video in which lead guitarist and vocalist Anton Kabanen shares his thoughts on the artwork – watch it here: http://bit.ly/14bNu4y
The tracklist of the ltd. "Battle Beast" CD version reads as follows:
01. Let It Roar
02. Out Of Control
03. Out On The Streets
04. Neuromancer
05. Raven
06. Into The Heart Of Danger
07. Machine Revolution
08. Golden Age
09. Kingdom
10. Over The Top
11. Fight, Kill, Die
12. Black Ninja
13. Rain Man
Bonus track
14. Shutdown

Watch the previously posted album trailer here: http://youtu.be/G-c-Fmy89-o
Stay tuned for further details to be revealed soon!
www.battlebeast.fi | www.facebook.com/battlebeastofficial | www.nuclearblast.de/battlebeast