BLOODY CLIMAX "Back To The Wall" – Cover, Tracklist, rerelease date: 6th September 2013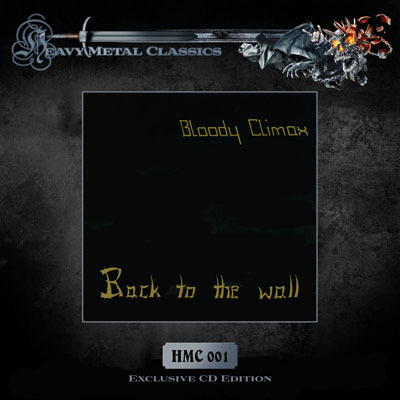 The rerelease date of the 1985 Vinyl "Back To The Wall" on CD is September 6th, 2013. The preorder phase will start on August 23, 2013 in our webshop.
The extremely rare 1985 vinyl "Back To The Wall" by BLOODY CLIMAX will be officially released on CD, together with previously unreleased songs of the planned – but never released – second album. Careful remastering, 78 minutes playing time and a 24-page booklet will make every collector's dreams come true.
The original album, which is on a level with classics like BLACK FATE and CREATURE, is very rare and expensive and collectors will know that it is one of the rarest German Heavy Metal albums ever. Rare and brilliant Heavy Metal albums are always coveted by collectors and BLOODY CLIMAX "Back To The Wall" is a classic which should definitely be in every collection.
TRACKLIST:
1. Edge Of The Daring
2. Turn To Ice
3. Back To The Wall
4. Bloody Climax
5. Cinderella
6. Jailbreaker
7. Living In The Night
8. Turning In Circles
9. No Paragon
10. Ride With The Wind
11. Run For Cover
12. Fight For My Life
13. Flames Of Hell
14. Out Of Control
15. Straight From The Heart
16. Taken By Force
Total Playing Time: 77:44min
LINE-UP:
Holger Volk – bass
Thomas Krämer – drums
Frank Heller – guitar
Daniel Lösch – guitars
Matthias Müller – vocals