CARCASS – new single `Captive Bolt Pistol´ out now!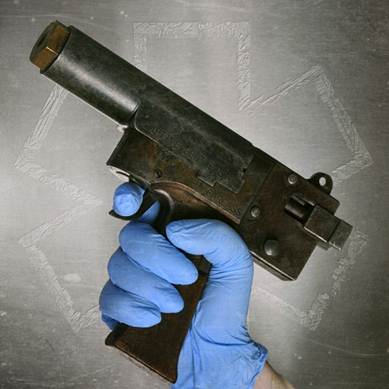 Disinterred British extreme metal legends, CARCASS release the track `Captive Bolt Pistol´ from their highly anticipated sixth
full-length album Surgical Steel today. The single is available on colored vinyl. The digital version will follow soon!
Track list:
Side A: Captive Bolt Pistol
Side B: Intensive Battery Brooding
Order the single here: http://smarturl.it/SurgicalSteelCD
»Surgical Steel«, the band's first studio release since their 1996 LP Swansong, was produced by Colin Richardson (NAPALM DEATH, BOLT THROWER, GOREFEST,
CANNIBAL CORPSE, SINISTER, RODRIGO Y GABRIELA) and mixed/mastered by Andy Sneap (MEGADETH, ACCEPT, EXODUS, TESTAMENT). "We went back to
working with Ian Tilton, who is an iconic English photographer famous for working with THE STONE ROSES," stated frontman Jeff Walker regarding the cover artwork.
"He actually did the front cover for Necroticism… as well. We've deliberately tried to evoke the feeling of that album and Heartwork." Joining guitarist Bill Steer and
bassist/vocalist Jeff Walker in the band's current incarnation are new drummer Dan Wilding (ABORTED, TRIGGER THE BLOODSHED) and guitarist Ben Ash
(PIG IRON, DESOLATION, LIQUEFIED SKELETON). Expect some guest vocals from original sticksman Ken Owen as well, when Surgical Steel is finally released this Fall.
Check out this trailer previewing music from »Surgical Steel«.
»Surgical Steel«will be released on September 16 (UK), September 13 (Rest of Europe) and September 17 (North America).
www.facebook.com/officialcarcass | www.nuclearblast.de/carcass