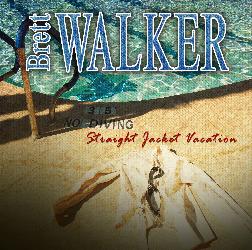 Born and raised in Norman, Oklahoma Brett Walker picked up the guitar at age 15 and soon began playing school assemblies and local functions. At age 20 Brett made the decisive move to Los Angeles, where he found himself working as a "hired gun" playing with such artists as Tane Cain and Nick Gilder. Brett also was featured as a regular performer at Disneyland in Anaheim California at the "Tomorrowland Terrace Stage". The move to Los Angeles marked his introduction into the world of professional song writing.
Branching out on his own, Brett began seriously pursuing a career as a singer/songwriter. He continued working on his own, and on the strength of his tapes, went to NYC to work with renowned producer David Prater (producer of Fire House and Dream Theater) to create the record "Nevertheless".
In 1991, Brett wrote two charting singles; one for Jimi Jamison and the other for the band Alias. "Waiting for love" recorded by Alias, went on to become Brett's first international top ten single in 1991.
Brett's songwriting led him to work with such talents as Jonathan Cain, Jim Peterik, Nick Gilder, Jeff Paris, Paul Taylor, Taylor Rhodes, John Purdell and others.
In 2012 Brett reconnected with two drummer colleagues (Pat Leon and Mugs Cain) and recorded the record "Straight Jacket Vacation". The CD was recorded at "Panic Room Records" in Laguna Beach, California with Engineer and Producer Weston Hodges.
Straight Jacket Vacation has a release date of 30th of August 2013 with AOR Heaven, and will be followed in September with a concert performance at the Melodic Rock Fest 3 in Chicago where Brett will showcase some on his newly released songs as well as some of his popular hits.
Straight Jacket Vacation includes contributions of renowned musicians such as Mugs Cain, Timothy Drury, Jim Peterik, Jeff Paris, Pat Leon, Matt MacKelvie, Todd Herfindal, Weston Hodges to name a few.
Tracklist: 1 Reaching For The Stars, 2 What About You, 3 Better Than Goodbye, 4 Streetlights Burning, 5 I'll Bet It Hurts, 6 More Than I, 7 Good Enough, 8 Waiting For Love, 9 I'm Gonna Fly, 10 So Happy I'm Cryin, 11 Unlucky At Love, 12 Someday I'm Gonna Be Famous
Soundfiles in advance:
BRETT WALKER – Better Than Goodbye (Edit)
BRETT WALKER – Reaching For The Stars (Edit)
BRETT WALKER – What About You (Edit)