DEATH ANGEL – "The Dream Calls For Blood" Track List Unveiled!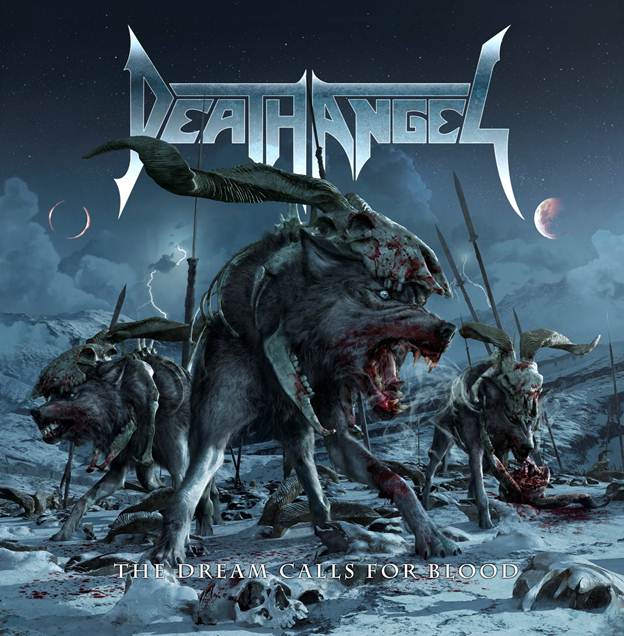 Three years have passed since the release of DEATH ANGEL's crushing Relentless Retribution album; three years of constant touring and on-the-road-songwriting. Now the Bay Area veterans have returned with yet another visceral slice of thrash! »The Dream Calls For Blood« was recorded at AudioHammer Studios with Jason Suecof (TRIVIUM, AUGUST BURNS RED, THE BLACK DAHLIA MURDER, ALL THAT REMAINS, WHITECHAPEL, DEVILDRIVER), and once again features cover art by Brent Elliot White (JOB FOR A COWBOY, CARNIFEX, WHITECHAPEL).

"We are excited to reveal the track list of our upcoming release, »The Dream Calls For Blood«," commented guitarist Rob Cavestany. "As we speak I'm about to board my flight home from 3 incredible shows in England, Belgium and Holland – after 3+ years of constant touring for our last album, »Relentless Retribution«. At last the cycle has ended with our insanely hot and wild gig in Rotterdam last night! This means we begin the next phase, which is preparing to tour for the new record; it all kicks off in October! By looking at the song titles I guess it's obvious that angst and struggle is still a major part of our reality. Thankfully we have this outlet to vent and release aggression. That way we remain the happiest band in Thrash! (laughs) Hope these song titles intrigue you."

»The Dream Calls For Blood« will be released to the rabid masses on October 11th (Europe), October 14th (UK) and October 15th (North America). Fans will be able to purchase a standard jewelcase version of the album or digipak edition that includes a bonus track and bonus DVD.
»The Dream Calls for Blood« Track List:
01. Left For Dead
02. Son of the Morning
03. Fallen
04. The Dream Calls for Blood
05. Succubus
06. Execution – Don't Save Me
07. Caster Of Shame
08. Detonate
09. Empty
10. Territorial Instinct / Bloodlust
DIGIPAK BONUS TRACK
11. Heaven And Hell
DIGIPAK BONUS DVD
The Making Of »The Dream Calls For Blood«
DEATH ANGEL are pleased to announce their North American headlining tour in support of their upcoming thrashsterpiece, »The Dream Calls For Blood« . Joining them on a savage aural assault across two nations are 3 INCHES OF BLOOD, BATTLECROSS, REVOCATION, and DIAMOND PLATE.
"We are so excited to announce this upcoming tour," commented vocalist Mark Osegueda. "We worked so hard writing, and recording this record! Especially writing this while on the road for the last 3 years of touring. And it reflects the triumphs, and mainly hardships of all we went through while touring. The anger, perseverance, and energy was captured on the recording of The Dream Calls for Blood. This tour is the PERFECT spring board to launch off of and back on the road; hungrier and more focused then ever! With a lineup of bands handpicked by us, you're basically sonically ravaged from the moment the lights dim at the beginning of the night, until the lights turn back on at the end! I'm confident every band on this bill plan on sending you home feeling like you've survived a massacre that you can't help but brag about. Look forward to feeding off each other's energy! Stay hungry! Stay thrash! See you on the road, in the pit, and at the bar!!!"

The San Francisco, Hollywood and Ramona gigs are considered CD release shows and everyone that purchases a ticket will also receive a copy of the new DEATH ANGEL album at the show! Tickets go on sale today at 5 pm EST. VIP package will be on sale at http://deathangel.soundrink.com and include the following:
-One (1) General Admission Ticket
-Copy of the New Album »The Dream Calls For Blood«
-Exclusive DEATH ANGEL T-Shirt
-11 x 17 Poster
– DEATH ANGEL Drink Koozie
-VIP Laminate w/ Lanyard
DEATH ANGEL, 3 INCHES OF BLOOD, BATTLECROSS, REVOCATION, DIAMOND PLATE
10/18/13 Slim's – San Francisco, CA (no DIAMOND PLATE)
10/19/13 The Whisky – Hollywood, CA
10/20/13 Ramona Mainstage – Ramona, CA
10/21/13 Orpheum Theater – Flagstaff, AZ
10/23/13 Dirty Dog – Austin, TX
10/24/13 Scout Bar – Houston, TX
10/25/13 South By So What – Dallas, TX
10/26/13 Chameleon Room – Oklahoma City, OK
10/27/13 FuBar – St Louis, MO
10/29/13 Webster Hall (Marlin Room) – New York, NY
10/30/13 Empire – Springfield, VA
10/31/13 Altar Bar- Pittsburgh, PA
11/01/13 Mojo 13 – Wilmington, DE
11/02/13 Middle East – Boston, MA
11/03/13 Foufounes Electriques – Montreal, QC
11/04/13 Opera House – Toronto, ON
11/05/13 Reggie's – Chicago, IL
11/07/13 Summit Music Hall – Denver, CO
11/08/13 Sunshine Theater – Albuquerque, NM
11/09/13 Rocky Point – Tempe, AZ
11/10/13 Observatory – Santa Ana, CA
Latest Music Videos:
'River of Rapture' http://www.youtube.com/watch?v=HbwOUpgOk38
'Truce' http://www.youtube.com/watch?v=erSBEaeL808&feature=related

www.DEATHANGEL.us | www.facebook.com/DEATHANGEL | www.myspace.com/DEATHANGEL