KATAKLYSM – European Headliner Tour in January/February 2014!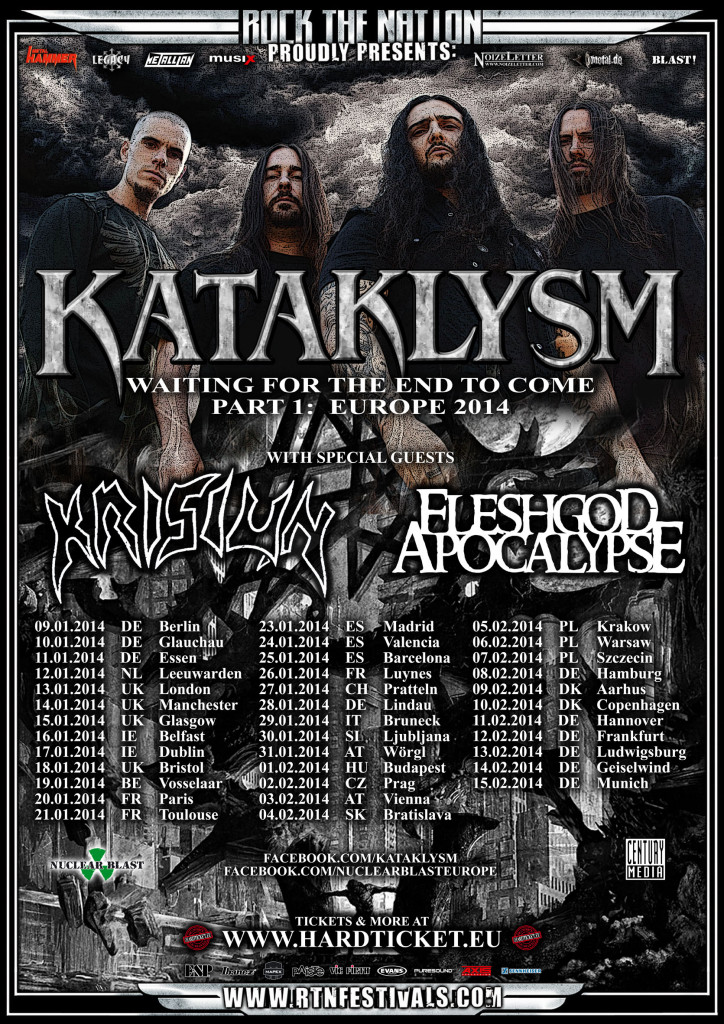 Northern hyperblast kings KATAKLYSM from Canada know one thing for sure: to stay in the game you have to work hard continuously!
So these guys keep releasing awe-inspiring extreme metal albums regularly and seem to be on the road pretty much the rest of the time.
After the release of their latest studio album "Heaven`s venom" (2010) and the massive anniversary live package "Iron will" (2012), their
highly-anticipated new record "Waiting for the end to come" will see the light of day on October 25, 2013 and it´s surely going to butcher
the competition. Once again.
KATAKLYSM guitarist Jean-Francois Dagenais helmed the production of this upcoming masterpiece of brutality and melody once more, while
legend Zeuss (SUFFOCATION, HATEBREED and many more) took care of the mixing. The artwork by Eliran Kantor (TESTAMENT, HATEBREED)
will be featured on the deluxe digipak and LP versions of their new album and the cover by Peter Sallai, who is known for his artworks done
for SABATON, will be featured on the standard jewel case and limited edition cassette tape versions.
Check out this trailer previewing Peter Sallai´s cover and some brand new KATAKLYSM tunes right here: http://youtu.be/8W3JtbVLGwA
And KATAKLYSM wouldn`t be KATAKLYSM if they hadn`t already mapped out the next tour – they`ll embark on a European headlining run in
January and February 2014 which marks their first tour on the old continent in almost 3 years, so all fans better buckle-up for this full-blown
death metal onslaught which is about to gut Europe.
"It´s been almost three years since our last club tour in Europe and we are so excited to come back and blow off the roof of every club next
January & February. We've built an album that will stand the test time and will need many headbangers, body surfers and mosh pits to give it
justice and we are building a special show that you will never forget. This time, after almost a decade we have decided to tour the UK as well,
after seeing the reactions at this years Bloodstock Open Air. There´s no doubt it´s time to come destroy. Raise your pints!" Maurizio Iacono/KATAKLYSM
Supporting them will be Brasilian death metal veterans KRISIUN, who are working on their new and yet untitled album. FLESHGOD APOCALYPSE are also part
of the billing and pose a special treat for sure! They mix brutal tech death with symphonic, opera-like arrangements. Their third album "Labyrinth" just came out.
"WAITING FOR THE END TO COME PART 1: EUROPEAN TOUR 2014
Presented by Metal Hammer, Legacy, Musix, Noizeletter, Metal.de, Metallian, BLAST!
KATAKLYSM
KRISIUN
FLESHGOD APOCALYPSE
09.01.2014 DE Berlin, C-Cub
10.01.2014 DE Glauchau, Alte Spinnerei
11.01.2014 DE Essen, Turock
12.01.2014 NL Leeuwarden, Romein
13.01.2014 UK London, Underworld
14.01.2014 UK Manchester, Sound Control
15.01.2014 UK Glasgow, Classic Grand
16.01.2014 IE Belfast, Voodoo
17.01.2014 IE Dublin, The Pint
18.01.2014 UK Bristol, Bierkeller
19.01.2014 BE Vosselaar, Biebob
20.01.2014 FR Paris, Divan Du Monde
21.01.2014 FR Toulouse, Dynamo
23.01.2014 ES Madrid, Caracol
24.01.2014 ES Valencia, Sala Fussion
25.01.2014 ES Barcelona, Razmatazz 2
26.01.2014 FR Luynes, Korrigan
27.01.2014 CH Pratteln, Z 7
28.01.2014 DE Lindau, Vaudeville
29.01.2014 IT Bruneck, Ufo
30.01.2014 SI Ljubljana, Gala Hala
31.01.2014 AT Wörgl, Komma
01.02.2014 HU Budapest, Dürer Kert
02.02.2014 CZ Prag, Club Matrix
03.02.2014 AT Vienna, Szene
04.02.2014 SK Bratislava, Majestic Music Club
05.02.2014 PL Krakow, Kwadrat
06.02.2014 PL Warsaw, Proxima
07.02.2014 PL Szczecin, Heya Club
08.02.2014 DE Hamburg, Markthalle
09.02.2014 DK Aarhus, Voxhall
10.02.2014 DK Copenhagen, Pumpehuset
11.02.2014 DE Hannover, Musikzentrum
12.02.2014 DE Frankfurt, Batschkapp
13.02.2014 DE Ludwigsburg, Rockfabrik
14.02.2014 DE Geiselwind, Music Hall
15.02.2014 DE München, Backstage
Official KATAKLYSM Clip: http://youtu.be/KSs6Jp7X0uY
www.facebook.com/kataklysm | www.nuclearblast.de/kataklysm