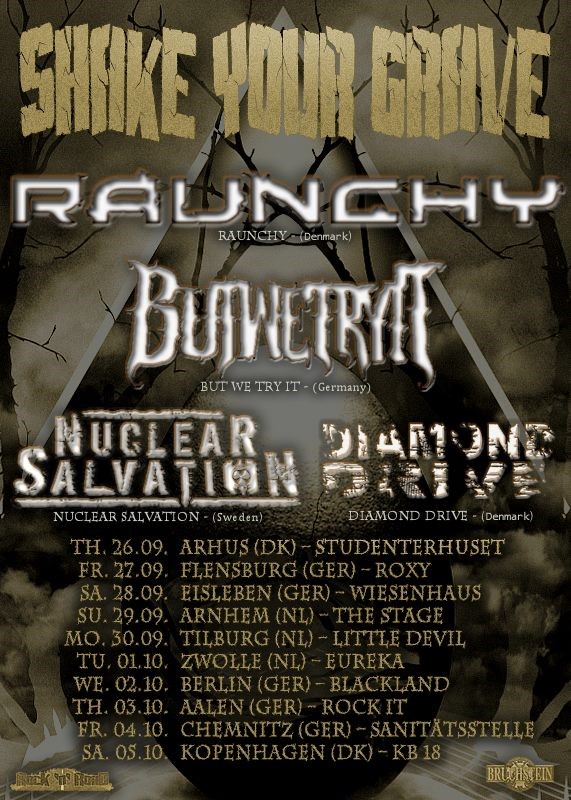 We're pleased to announce that we're going on tour with our friends in RAUNCHYofficial (DK) andButWeTryIt (DE). Two shows are yet to be confirmed.
Th. 26.09. Aarhus (DK) – Studenterhuset
Fr. 27.09. Flensburg (GER) – Roxy
Sa. 28.09. Eisleben (GER) – Wiesenhaus
Su. 29.09. Arnheim (NL) – Die Bühne
Mo. 30.09. Tilburg (NL) – Little Devil
Tu. 01.10. Zwolle (NL) – Eureka
We. 02.10. Berlin (GER) – Blackland
Th. 03.10. Aalen (GER) – Rock it
Fr. 04.10. Chemnitz (GER) – Sanitätsstelle
Sa. 05.10. Kopenhagen (DK) – KB 18
Aggressive and melodic metal – this is the brief characterization of the danish band Diamond Drive, which along with a forceful, energetic and enthralling live-performance marks its potential on today's rock- and metalscene.
Since 2006 the band has released three critically acclaimed EP's. "Early 2007", "The Infidel's EP" 2008 und finally "Reset-Press-Play" which after a change of the lead singer and new, completely different approach to the material appears in 2010. Rockfreaks.net now aptly described their style as " punchy, crisp alternative rock, flirting with metal".
The first longplayer Diamond Drives, TEMPORALITY, which is released in June 2013, was created in summer 2012 in collaboration with some of the best in the music industry, produced by Jacob Bredahl (The Burning, The Kandidate, Koldborn, etc.), mastered by Tue Madsen ( The Haunted, Sick of It All, Mnemic, etc.), coverartwork by Mircea Eftemie (Soilwork, Strapping Young Lad, Nevermore, Threat Signal, etc) and photos by Stefan Wessel und Morten Rygaard (Rammstein, Chris Cornell, Timberland, etc) and shows with 12 first-class tracks a new, more aggressive and energetic band.
FACEBOOK: www.facebook.com/DiamondDrive
LABEL: www.noiseheadrecords.com