DORO – releases their favorite tracks of Metallica, Tina Turner and Led Zeppelin a.o. – Anniversary 2-CD comes out on May, 2nd!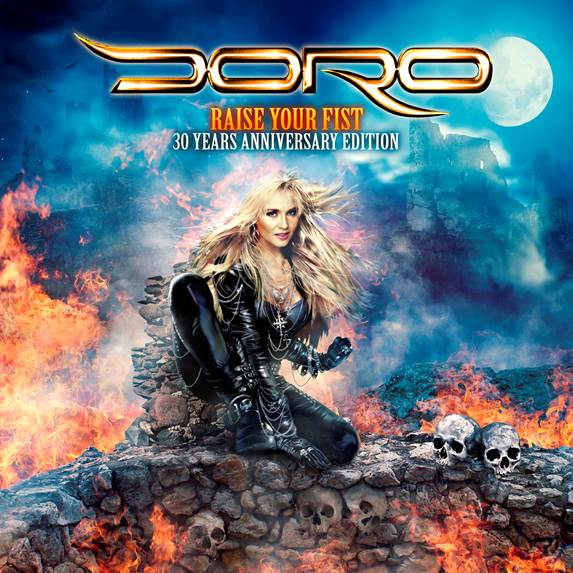 In honor of her 30 years stage jubilee, internationally successful rock singer DORO PESCH will celebrate with fans from all over the world and two separate yet unique shows on May 02: the »Classic Night« with Orchestra, and May 03: the »Rock Night« with many guests, at CCD Stadthalle of her hometown Düsseldorf.
Just in time for the celebration, there will be an anniversary record of the rock queen. The »Raise Your Fist – 30 Years Anniversary-Edition« contains the re-release of the successful »Raise Your Fist« record, as well as a real bonus CD highlight entitled »Powerful Passionate Favorites«. There you find new and unreleased tracks, but also DORO cover versions of her favorite artists, such as LED ZEPPELIN, TINA TURNER, METALLCA and DIO.
Another highlight is the French version of her hit `Raise Your Fist In The Air' as well as a new mix of `It Still Hurts', a duet along with MOTÖRHEAD icon Lemmy Kilmister.
DORO comments: »Raise Your Fist« is a real jewel among my releases, with constantly great tracks on it."
The bonus CD »Powerful Passionate Favorites« now adds another diamond to her outstanding career. Here comes the tracklist:
01. It Still Hurts
The ballad of Doro and Lemmy, with a new mix from Jacob Hansen (VOLBEAT a.o.)
02. Léve Ton Poing Vers Le Ciel
The french version of the single 'Raise Your Fist In The Air'
03. Babe I´m Gonna Leave You
DORO's cover version of the LED ZEPPELIN classic
04. Nutbush City Limits
DORO's cover version of the TINA TURNER classic
05. Only You
New version of the track, which was written by Gene Simmons (KISS) in the year 1990 for DORO
06. Egypt (The Chains Are On)
Cover-version of her favorite Ronnie James DIO song, the true hero of Doro
07. Nothing Else Matters
DORO's cover version of the most popular METALLICA classic
08. Warfare
New song, which will be featured alongside the movie "Anuk 2", where Doro again acts as the warrior Meha.
09. NYC Blues
Home-recorded demo-version of a new track, recently recorded at Doro's apartment in New York
DORO – Live 2014
01.03. ECU Quito – Guaranda Metal Fest
04.03. PER Lima – Centrica
06.03. COL Bogota – Ozzy Bar
08.03. BRA Sao Paulo – Carioca Club
09.03. BRA Porto Alegre – Opiniao
02.05. DE Düsseldorf – 30th anniversary show
03.05. DE Düsseldorf – 30th anniversary show
13.05. DE Speyer – Halle 101
15.05. AT Wörgl – Komma
16.05. DE Regensburg – Airport
17.05. DE Memmingen – Kaminwerk
19.05. UK London – O2 Islington Academy
21.05. F Paris -Le Trabendo
22.05. F Montauban -Rio Grande
24.05. E Madrid – Sala Shoko
25.05. E Barcelona -Razzmatazz 2
30.05. DE Geiselwind – Out & Loud Festival
01.06. CZ Plzen – Metalfest
27.06. B Dessel – Graspop Metal Meeting
19.07. DE Fritzlar – Rock am Stück
09.08. S Gävle – Get Away Festival
29.08. DE Wörrstadt – Neuborn Open Air
30.08. DE Schleswig – Baltic Open Air
More info:
www.doro.de I www.facebook.com/DoroOfficial | www.nuclearblast.de