SONATA ARCTICA – Second Single 'Cloud Factory' out of »Pariah's Child« – out now!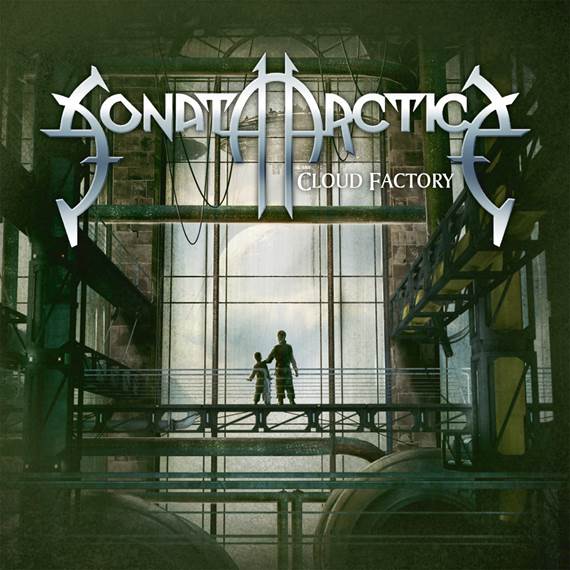 Today, Finnish Power Metal quintet SONATA ARCTICA releases their second single, called 'Cloud Factory', out of their upcoming new longplayer »Pariah's Child« that will be out on March 28, 2014 via Nuclear Blast.
Enjoy 'Cloud Factory' as a lyric video here: http://www.youtube.com/watch?v=RO5FPHFI6sI
Order 'Cloud Factory' here:
NB MP3 (New Feature! No registration, no software required):
http://smarturl.it/SonataArcticaCFNBMP3
iTunes: http://georiot.co/SonataArcticaCFiT
amazonMP3: http://smarturl.it/SONATA-Factory
Commented vocalist &keyboardist Tony Kakko: "It has some kind of an ear-worm factor. It's not a bad thing to have in a single. A story about how dad already sees his young son going to work in the same factory he still goes and where his dad and dad's dad went before him, and how that pleasantly vicious circle never ends."
More on »Pariah's Child«:
Album trailer part I: http://youtu.be/Q0WTxiNlVHU
Album trailer part II: http://youtu.be/W5Czn5qyG94
Album Trailer Part III: http://youtu.be/jB2hkg6jQcs
Album Trailer Part IV: http://youtu.be/fUa01uAyNTg
Album Trailer Part V: http://www.youtube.com/watch?v=SVVTaMLs0zc
The tracklist of »Pariah's Child« will be as follows:
01. The Wolves Die Young
02. Running Lights
03. Take One Breath
04. Cloud Factory
05. Blood
06. What Did You Do In The War, Dad?
07. Half A Marathon man
08. X Marks The Spot
09. Love
10. Larger Than Life
The album was recorded and produced by the band at "Studio 57" in Alaveteli, Finland. The mix was done by the band's new bass player Pasi Kauppinen.
You can pre-order your copy of »Pariah's Child« here: http://smarturl.it/SONATA-Pariah
Don't miss SONATA ARCTICA – Live:
05.03. MEX Monterrey – Escena
06.03. MEX Chihuahua – 307 LIVE
07.03. MEX Mexicocity – Salon Cuervo
09.03. MEX Ciudad Obregon – AUDITORIO EXPO OBREGON
11.03. PE Lima – Centro de Convenciones Scencia
13.03. CO Bogota – Ecci
15.03. BR Brasília – AABB
16.03. BR Belo Horizonte – Musichall
17.03. BR Rio de Janeiro – Teatro Rival Petrobras
18.03. BR Rio de Janeiro – Teatro Rival Petrobras
19.03. BR São Paulo – Carioca Club
21.03. RCH Santiago – Teatro Caupolican
22.03. RA Buenos Aires – Teatro Vorterix
23.03. ROU Montevideo – La Trastienda
25.03. RA Cipolletti – Meet Dance Club
10.04. NL Eindhoven – Effenaar
11.04. BE Bormal-Sur-Ourthe – Durbuy Rock Festival
13.04. NL Amsterdam – Melkweg
14.04. D Hamburg – Markthalle
16.04. D Braunschweig – Meier Music Hall
17.04. D Berlin – C-Club
18.04. D Leipzig – Hellraiser
19.04. D Bochum – Matrix
21.04. D Aschaffenburg – Colos-Saal
22.04. D Saarbrücken – Garage
23.04. F Paris – Bataclan
24.04. D Ludwigsburg – Rockfabrik
26.04. D Nürnberg – Hirsch
27.04. CH Pratteln – Z7
28.04. I Trezzo – Live Club
30.04. Hu Budapest – Club 202
01.05. CZ Prague – Retro Music Hall
02.05. AT Vienna – Szene
04.05. F Lyon – Transbordeur
05.05. ESP Barcelona – Bikini
06.05. ESP Madrid – Arena
02.08. CZ Ostrava – Dolni Vitkóvice-Open Air
03.09 US Mexicali Live – Teaneck, NJ
04.09 US Stage 48 – New York, NY
05.09 US The Trocadero – Philadelphia, PA
06.09 US The Palladium – Worcester, MA
08.09 CA Club Soda – Montreal, QC
09.09 CA Imperial de Québec – Québec, QC
10.09 CA Mavericks – Ottawa, ON
11.09 CA MOD Club – Toronto, ON
13.09 US Soundstage – Baltimore, MD
14.09 US Altar Bar – Pittsburgh, PA
16.09 US Agora Ballroom – Cleveland, OH
17.09 US Mojoes – Joliet, IL
19.09 CA Park Theater – Winnipeg, MB
20.09 CA The Exchange – Regina, SK
21.09 CA Starlite Ballroom – Edmonton, AB
22.09 CA The Republik – Calgary, AB
24.09 CA The Venue – Vancouver, B.C.
25.09 US El Corazon – Seattle, WA
26.09 US Hawthorne Theater – Portland, OR
28.09 US The Grand Ballroom at the Regency – San Francisco, CA
29.09 US House of Blues – West Hollywood, CA
30.09 US The Grove – Anaheim, CA
01.10 US Club Red – Tempe, AZ
04.10 US Bluebird Theater – Denver, CO
05.10 US Granada – Lawrence, KS
07.10 US Tricky Falls – El Paso, TX
08.10 US Backstage Live – San Antonio, TX
00.10 US Trees – Dallas, TX
10.10 US Scout Bar – Houston, TX
12-10 US Diamond Pub & Billiards – Louisville, KY
13.10 US The Masquerade – Atlanta, GA
14.10 US House of Blues – Lake Buena Vista, FL
151.0 US Orpheum -Tampa, FL
02.11. RU Moscow – Volta
03.11. RU Nizhny Novogorod – Premio Centre
05.11. UA Kiev – Bingo
06.11. RU Minsk – Re:public
08.11. RU St. Petersburg – Avrora
More info:
www.sonataarctica.info | www.facebook.com/sonataarctica | www.nuclearblast.de/sonataarctica