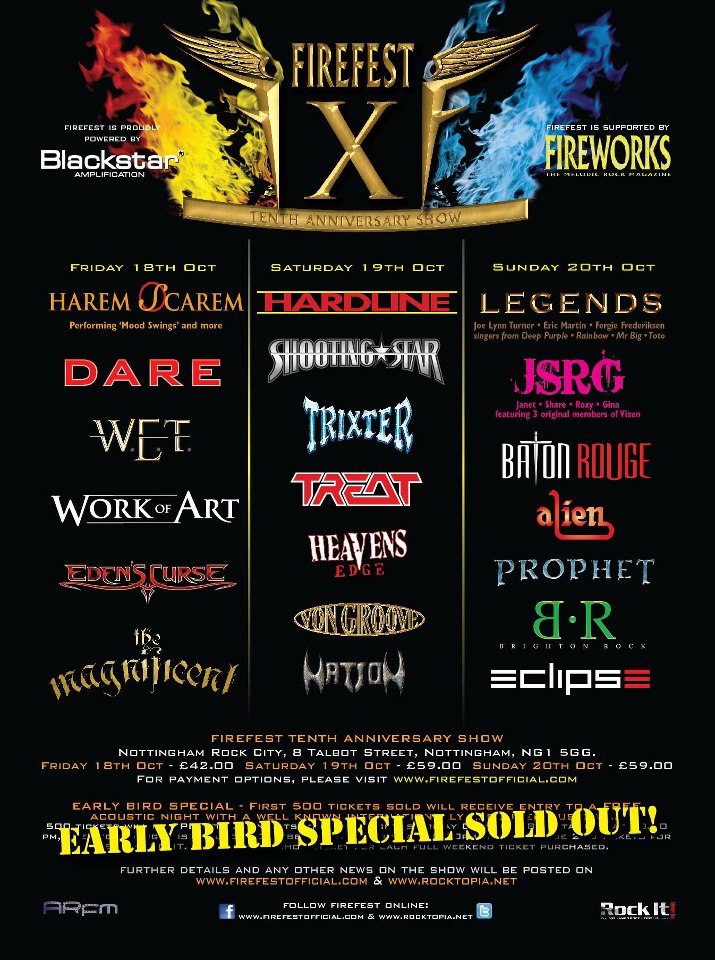 As you will know by now, 2013 will see staging of the FIREFEST 10TH ANNIVERSARY SHOW from Friday October 18th to Sunday October 20th. Firefest has always endeavoured to something "that little bit special "from delivering  the totally unexpected  (F.M. , White Sister, Romeo's Daughter, Shotgun Symphony, Paul Laine, Bangalore Choir etc.) to just doing something "cool" because we as fans like the sound of it. Having sold in excess of 50% of tickets for all three days a mere 2 months after the announcement of the 2013 line up , Firefest is absolutely delighted to be able to announce we are once again going to do something cool, just because we can.  As a THANK YOU to all those that have supported Firefest since its inception  ten years ago, we are adding yet another act to FRIDAY OCTOBER 18TH with no increase in ticket price for those that have already purchased or those that are about to purchase. This was not planned, t…here was absolutely no intention to add another act until one of our great friends and supporters let it slip during a conversation that he would be available during the Firefest weekend instead of preparing for his touring commitments starting November 1st. Now considering the rest of his band mates were already going to be in attendance with their 'other' bands , we thought it would be downright rude not to invite him along to perform with them , so ladies and gentlemen we are delighted to announce that Mr. JEFF SCOTT SOTO will perform with W.E.T. on Friday October 18th. Here is what Jeff had to say:
10 Years…what can I say, Firefest, you did it! I was there with Soul
SirkUS at the 1st FF and am proud to come celebrate the 10th Anniversary
show with W.E.T.! Thanks Kieran, Bruce and all that keep this thing alive
and kicking, we can't wait to return with all the other great bands this
year! JSS
So there you have it folks, W.E.T. added to the bill in what is without doubt a MUST SEE. Following their performance at Firefest 2011 where they absolutely took the roof off Rock City, no self respecting fan of melodic hard rock will want to miss this.
The addition of W.E.T. to an already kick ass line up on the Friday (and remember – no increase in ticket price and all those that have already purchased) – this is a little present to you from FIREFEST and W.E.T.
FRIDAY OCTOBER 18TH LINE UP
HAREM SCAREM
DARE
W.E.T.
WORK OF ART
EDEN'S CURSE
THE MAGNIFICENT
Tickets are available and on sale, full details of how to purchase can be found on www.firefestofficial.com. Needless to say that tickets for the Friday show will now be one of the hottest items around, and with almost 60% of Friday tickets already sold, it is advisable to get yours sooner rather than later to avoid disappointment. This is the only W.E.T. show currently scheduled and will definitely be the only U.K. show during 2013.
We hope you enjoy the THANK YOU from Firefest, see you at the front…..