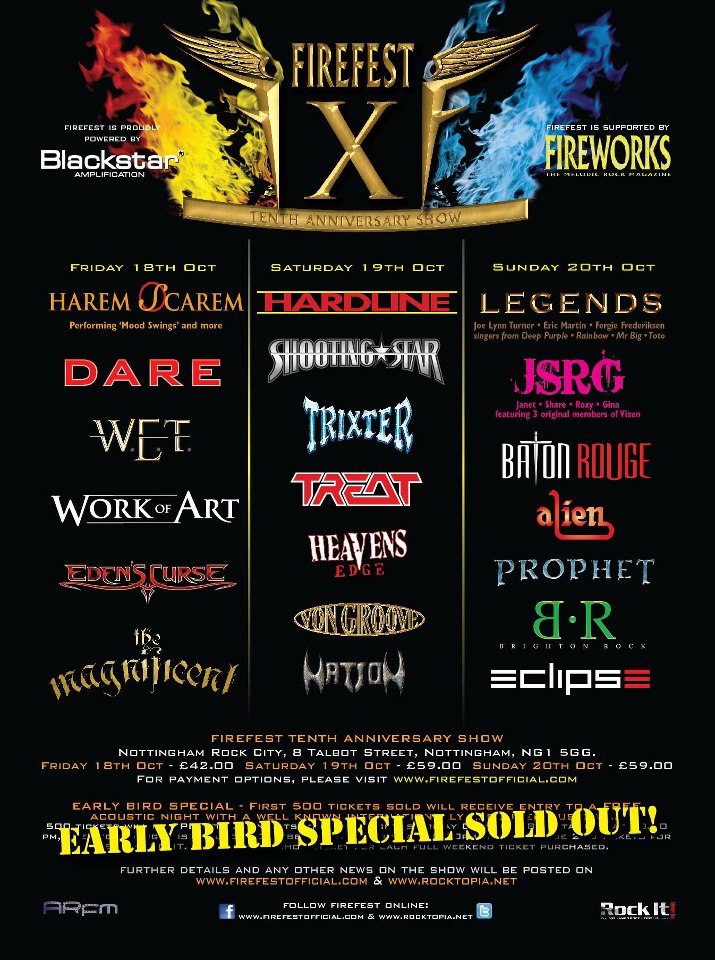 IMPORTANT TICKETING DETAILS FOR FIREFEST 2013

As we will NOT be using Paypal this year due to ongoing issues
with their service, we will only be accepting the following methods of payment
for tickets:
Personal Cheque
Postal Order
International Bank
Draft
Credit Card Cheque
Cash via registered post (at senders own
risk)
All Payments should be made payable to:
Mr Bruce Mee
c/o
Fireworks Magazine
10 Dunnock Close
Offerton
Stockport
SK2
5XD
England.
In addition to paying by the methods mentioned , you can
now also pay by Bank/Wire transfer
Payments Details :
Bank:
Santander
44 Merrion St, Leeds, LS2 8AL
Acc holder: Bruce L. Mee
Acc
Number: 38779383
Sort Code: 72-50-06
International Banking number:
GB24ABBY09013638779383
BIC number: ABBYGB2LXXX
Once completed please e
mail your confirmation to : fireworks.mag@ntlworld.com

As soon as the payment has been verified , your tickets will be
dispatched to you by mail.
PLEASE allow UP TO 28 days for your tickets to reach you from date of order. IF you have not received your tickets within the 28 days , please contact us @fireworks.mag@ntlworld.com with your name, address,
date of payment and payment type
Tickets are priced as
follows:
Friday £42
Saturday £59
Sunday £59
Full weekend
ticket £160 (Friday, Saturday and Sunday)
postage included.
The
first 500 people purchasing FULL weekend tickets will also receive a ticket to a
FREE ACOUSTIC Night featuring an extremely well known internationally acclaimed
musician performing hits and covers in an up close and personal show lasting …
well for as long as you like really. Now when we mention 500 tickets, this will
be SPLIT over 2 nights; the first night is Friday October 18th starting at 10.30
pm , the second night is Saturday October 19th starting at 10.30pm. There will
be 250 tickets for EACH NIGHT. The first 250 people purchasing tickets for all
three days will receive after show acoustic tickets for Friday, the second 250
will receive tickets for Saturday. You will NOT be able to purchase a ticket to
the acoustic shows separately. You will only receive acoustic show tickets with
the purchase of a FULL WEEKEND TICKET (Friday, Saturday and Sunday). You will
receive one acoustic show ticket per each full weekend ticket purchased. For
example if you buy 3 full weekend tickets, you will receive 3 acoustic show
tickets.
As mentioned this is only available for the first 500 tickets
purchased. For the 2012 show which took place in October just gone, 500 tickets
were sold in 48 hours from launch. Please remember, once we reach 500 full
weekend tickets sold, there will be no more acoustic tickets available.
And just to add a bit of spice to that, anyone holding a Friday night
Acoustic Show ticket can use that same ticket as entry to the meet and greet on
Saturday with that day's headliner. Anyone holding a Saturday night acoustic
show ticket can use that ticket as an entry to the meet and greet on Sunday with
that day's headliner. And NO, we're not going to tell you who they are until
December 9th … so please don't ask!!!!
Knowing many of you have used
Pay Pal in the past, which is an instant payment, and the fact that this option
is NOT AVAILABLE for the 2013 show, we would like to offer you the opportunity
to 'get in early'. If you wish to take a chance and purchase tickets BEFORE the
line up is announced on December 9th, we will be accepting payments from Monday
December 3rd in order to allow for the longer delivery times involved in using
the various postal services around the world. If you wish to wait until after
December 9th that is just fine also…we are just offering the option.
So
there you have it . The Firefest 10th anniversary show.
October 18-20
2013
3 Days
19 Bands
2 Acoustic shows