GRAND MAGUS – enter the studios to record new album!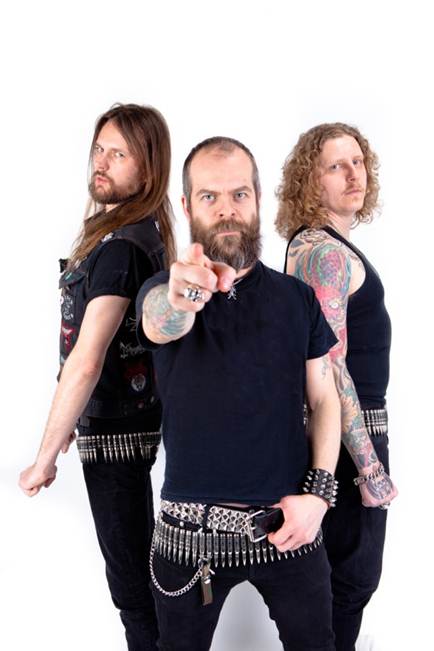 Swedish riff lords GRAND MAGUS have just started to record the follow-up to last year's crushing output »The Hunt«. After finishing up demoing and a pre-production phase the band entered the recording state at the beginning of September. To get a real killer record, GRAND MAGUS have once again engaged with Nico Elgstrand as a producer, who already had his hands on the controllers for »The Hunt«, as well as the engineering force of Staffan Karlsson at Studio Sweetspot in Halmstad, who has worked with ARCH ENEMY and he mixed the most recent record of SPIRITUAL BEGGARS.
Commented drummer Ludwig "Ludde" Witt:
"The time has come! Warriors! Things have been quiet around here recently, you know us well enough to know that we haven't been sitting around idly though… We have finished writing our new album and we enter the studio!!! Monday the 2 of September marks the start of our new journey. The result will be something to behold. That is a promise. You want something heavy? You'll get it. This will be our strongest album to date."
Added the band:
"The MAGUS have been busy bees with an elaborate pre-production phase, meaning that we have demoed all the tracks and it certainly pays off now. The recordings proper started off this Monday and we already have some killer basic tracks brewing. We are working simultaneously on several tracks to ensure flow and proper impact. It feels like it's going to be something extremely powerful this time… The drums are killer and with the perfect touch we've learned to expect from Ludwig, there will be a wall of ferocious guitars and grinding bass guitar that will shake the bowels. Among other things we worked today on HOLMGÅNG which has a lot of riffing going on and we think the guitar sound is the best we've ever had on a recording. Pure power!"
Last years' album »The Hunt«, which was unleashed May 25, 2012 via Nuclear Blast, went hunting around European charts, succeeding with the following entries: #12 of the UK Rock charts, #42 in Germany, #6 of the Sweden Rock/Metal charts, #68 in Austria and #76 in Switzerland.
www.grandmagus.com | www.facebook.com/grandmagusofficial | www.nuclearblast.de/grandmagus