IMMOLATION: "Kingdom Of Conspiracy" lyric video

New York death metal legends IMMOLATION have posted a lyric video for the track "Kingdom of Conspiracy" here http://youtu.be/gQ81n4mxaFA.
"Kingdom Of Conspiracy" is the title-track of their upcoming ninth full-length album. The follow up to their 2010 release, Majesty and Decay, will be released on May 10th via Nuclear Blast.
Kingdom of Conspiracy was recorded at Sound Studios in Millbrook, NY with longtime producer Paul Orofino, and mixed and mastered once again by Zack Ohren (ALL SHALL PERISH, DECREPIT BIRTH, SUFFOCATION).
IMMOLATION and NoiseCreep.com give you a glimpse into the creative process that went into making the artwork to their new album Kingdom of Conspiracy.
View rough sketches, and detailed accounts on the covers construction by both artist Pär Olofsson (IMMORTAL, THE FACELESS, ABYSMAL DAWN) and guitarist Robert Vigna here: http://goo.gl/2i2WP.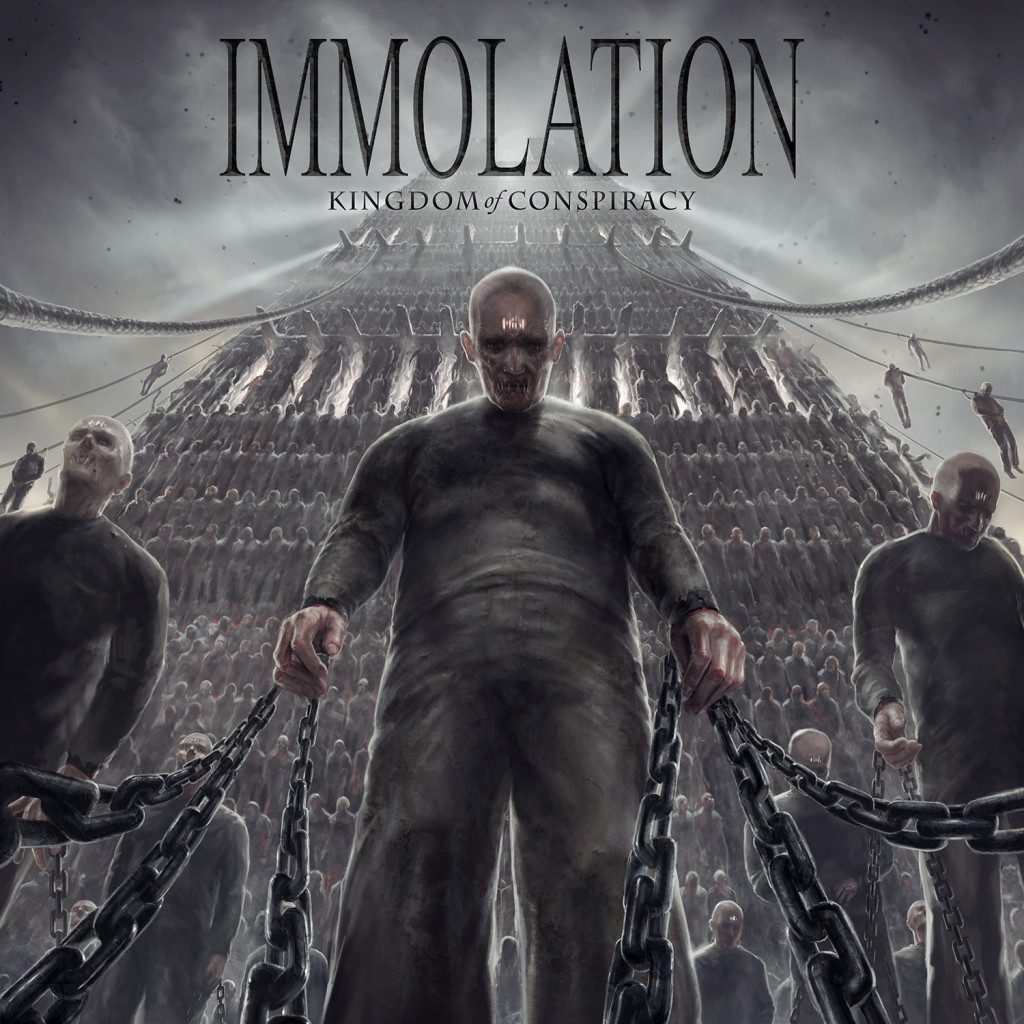 Kingdom Of Conspiracy track listing:
1. Kingdom of Conspiracy
2. Bound To Order
3. Keep The Silence
4. God Complex
5. Echoes of Despair
6. Indoctrinate
7. The Great Sleep
8. A Spectacle of Lies
9. Serving Divinity
10. All That Awaits Us
View part 1 of the making of Kingdom of Conspiracy here: http://youtu.be/uRQ16nVOvFs
For photos of the band in the studio click here https://www.facebook.com/media/set/?set=a.10151187378108628.504649.111398018627&type=3.
Latest music videos:
"A Glorious Epoch" http://www.youtube.com/watch?v=pMuzlblOBq8
"Illumination" http://www.youtube.com/watch?v=KFimlFRqQhA
www.facebook.com/IMMOLATION | www.EVERLASTINGFIRE.com | www.nuclearblast.de/immolation