KATAKLYSM – "Waiting for the End to Come" Alternate Deluxe Artwork Unveiled!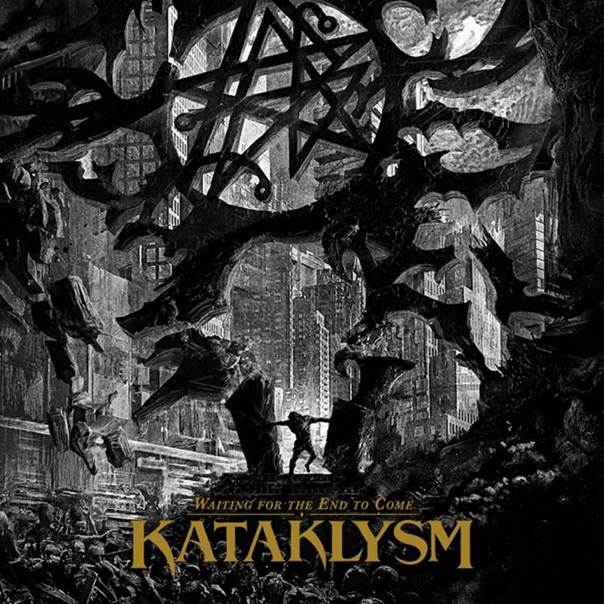 Montreal based death metal powerhouse, KATAKLYSM, have revealed the alternate cover art for their highly anticipated upcoming release Waiting for the End to Come.
The artwork by Eliran Kantor (TESTAMENT, HATEBREED) will be featured on the deluxe digipak and LP versions of their new album, which will be released on
October 25th via Nuclear Blast. The previously released cover by Peter Sallai (SABATON), will be featured on the standard jewel case and limited edition cassette tape versions.
"This other version of the new art made by Eliran Kantor represents a more iconic and epic approach," commented vocalist Maurizio Iacono. "A man representing all of humanity,
shaking the foundation of existence and ultimately beginning the process of destruction. The main foundation is depicted here as the famous KATAKLYSM 'tribal sun' logo.
It does not represent the end of KATAKLYSM by any means; more the beginning of a new era after the end of a certain existence."

Check out this previously released trailer previewing Peter Sallai cover and new music here: http://youtu.be/8W3JtbVLGwA
Waiting for the End to Come was recorded by guitarist Jean Francois Dagenais and mixed by Zeuss (SUFFOCATION, HATEBREED, ARSIS).
Check out the music video for the song "Iron Will" on YouTube: http://youtu.be/KSs6Jp7X0uY.
The track was recorded in Montreal, Canada with guitarist/producer Jean-François Dagenais and mixed by Tue Madsen (THE HAUNTED, BEHEMOTH, MNEMIC) in Denmark.
For more information visit: www.facebook.com/kataklysm | www.nuclearblast.de/kataklysm