KREATOR – post 'United In Hate' live clip from upcoming »Dying Alive« DVD!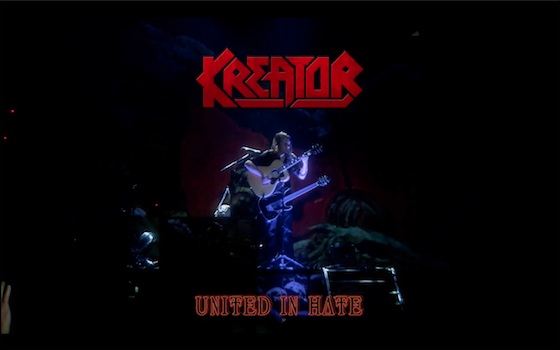 German thrash kings KREATOR have posted a full video track off their upcoming live DVD »Dying Alive« (OUT: August 30, 2013 – Europe // September 2, 2013 – UK // September 3, 2013 – US).
Check out 'United In Hate' including fan submitted KREATOR photos at: http://youtu.be/D0SHK6nZqTw
Furthermore KREATOR have announced an exclusive theatrical premiere for the the DVD at the renowned theater "Lichtburg" in the band's hometown Essen, Germany. The premiere will take place on August 29, 2013 starting at 8pm CET. Mainman Mille Petrozza will be present during the premiere and will be available for a Q&A afterwards.
Right after that a signing session is planned as well. Tickets can be purchased via www.lichtburg-essen.de
The DVD/Blu Ray features the band's sold out homecoming show in Oberhausen, Germany on December 22, 2012 after an extensive 45 days European tour in support of their highly successful album »Phantom Antichrist«. The packed and sweat driven show was filmed by 24 cameras as well as guitar and even mosh pit cams.
The first »Dying Alive« trailer can be viewed at this location: http://youtu.be/FyWFAYar37U, the second at http://youtu.be/YhxvCCHuU4A
The DVD/Blu Ray contains the show, a behind the scenes documentary as well as video clips. Approximate total running time: 115 minutes.
»Dying Alive« will be issued in various formats:
DVD/2CD Blu Ray/2CD
Earbook (DVD/Blu Ray/2CD + Bonus CD feat. »Phantom Antichrist« demo songs)
Earbook + 7" (DVD/Blu Ray/2CD + Bonus CD feat. »Phantom Antichrist« demo songs) – Nuclear Blast Mailorder ONLY
Audio-Formate:
Limited 2CD incl. live bonus tracks
2LP (black, 180g, gatefold + poster)
2LP (red, 180g, gatefold + poster) – Nuclear Blast Mailorder ONLY 2LP (orange, 180g, gatefold + poster) – Nuclear Blast Mailorder ONLY
Pre-order »Dying Alive« via http://smarturl.it/KreatorDyingAlive
KREATOR live
26.07. S Rejmyren – Skogsrojet Festival
02.08. A Spital Am Semmering – Metal Invasion Open Air
03.08. SK Nove Mesto – Trazka Voda Festival
09.08. E Villena – Leyendas Del Rock
17.08. CZ Ostrava – Rockova Ostravia
13.09. D Berlin – Kulturbrauerei, Kesselhaus, Metal Hammer Awards
21.09. F Mennecy – Mennecy Metal Part Festival
www.kreator-terrorzone.de | www.facebook.com/kreatorofficial | www.nuclearblast.de/kreator