SOULFLY – announce new album's title, tracklist, release date & guest appearances!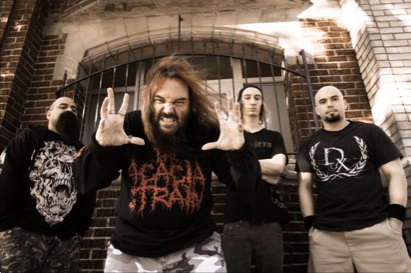 Legendary Brazilian extreme metallers SOULFLY have announced the title of the band's forthcoming studio effort.
The nineth SOULFLY album will be entitled »Savages« and is set for release on October 4, 2013 via Nuclear Blast.
Produced, engineered and mixed by renowned sound guru Terry Date (PANTERA, DEFTONES, WHITE ZOMBIE), »Savages« will be released as a limited edition digpack CD, 2LP vinyl and digital download.
Guest vocal appearances on »Savages« include bass player Tony Campos, Max Cavalera's son Igor Cavalera (LODY KONG), CLUTCH's Neil Fallon, NAPALM DEATH's Mitch Harris and Jamie Hanks of I DECLARE WAR fame.
»Savages« tracklist:
01. Bloodshed (feat. Igor Cavalera)
02. Cannibal Holocaust
03. Fallen (feat. Jamie Hanks)
04. Ayatollah Of Rock 'N' Rolla (feat. Neil Fallon)
05. Master Of Savagery
06. Spiral
07. This Is Violence
08. K.C.S. (feat. Mitch Harris)
09. El Comegente (feat. Tony Campos)
10. Soulfliktion
Limited Edition CD & 2LP vinyl bonus tracks:
11. Fuck Reality
12. Soulfly IX
Pre-order »Savages« via ??http://smarturl.it/soulflyalbum2013
More on »Savages«:
Studio trailer #1: http://youtu.be/ml1cqN5dwAM
Studio trailer #2: http://youtu.be/g1SDAt2jco4
www.soulfly.com | http://goo.gl/IJPcg | www.nuclearblast.de/soulfly