LOST SOCIETY – "Fast Loud Death" OUT NOW
final track-by-track episode & making of "Trash All Over You" online/ to tour with OVERKILL!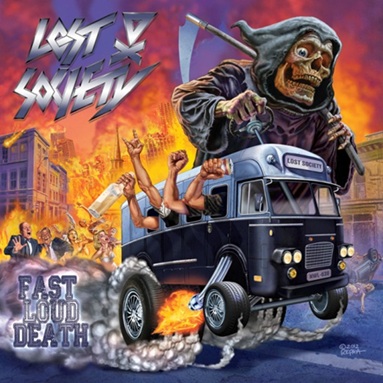 17, 18, 19, 19. No, that's not today's lottery numbers, but the age of the band members of Finland's most promising contemporary newcomer combo – LOST SOCIETY! Crafted under the aegis of famous producer Nino Laurenne (AMORPHIS, ENSIFERUM, LORDI) in the prestigious Sonic Pump Studios (FINNTROLL, SONATA ARCTICA, OMNIUM GATHERUM), the band's debut entitled "Fast Loud Death" is OUT NOW!
Check this video out to get an impression of what thrash metal legends like Mille Petrozza (KREATOR) or Schmier (DESTRUCTION) as well as renowned music magazines think of "Fast Loud Death": http://bit.ly/XfD137
Get your copy of the album here: http://smarturl.it/LostSocietyFLDCD
Moreover, the guys present the 5th and final episode of their hilarious track-by-track series, including details on "Fatal Anoxia" and the album's bonus track "Escape From Delirium". Watch it here: http://www.youtube.com/watch?v=K4rc5BYk_Eg

Additionally, the Finns have uploaded a short making-of video as a foretaste for the upcoming official "Trash All Over You" video clip that'll premiere on www.metalhammer.co.uk on Wednesday, March 20. Watch the making-of here: http://www.youtube.com/watch?v=Dow7iF_OB8w

Experience LOST SOCIETY's boundless joy of playing live – on tour in Finland together with OVERKILL (*) and on upcoming festivals:
16.03. FIN Jyväskylä – Red Neck
29.03. FIN Jyväskylä – Tanssisali Lutakko
17.04. FIN Tampere – Pakkahoune (*)
18.04. FIN Helsinki – Tavastia (*)
19.04. FIN Joensuu – Kerubi (*)
20.04. FIN Oulu – Club Teatria (*)
21.04. FIN Rytmikojaamo – Sinajoki (*)
04.05. FIN Jyväskylä – Tanssisali Lutakko
30.05. D Geiselwind – Beastival 2013
01.06. I Lichtenberg/Prad a.Stj. (Südtirol) – Eternity Of Rock Festival