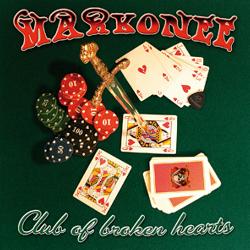 MARKONEE originate from the lively Rock scene of Bologna, Italy, where the band was founded by guitar player Stefano Peresson (ex-Danger Zone) back in 1999 together with guitar player Carlo Bevilacqua. Adapting their band name from the Italian radio pioneer Guglielmo Marconi the band's sound carries on the Classic Hard Rock in the tradition of genre favorites such as Winger, Ratt, Warrant, Skid Row, Pink Cream 69, Firehouse and Gotthard.
So far the band has released two records, "The Spirit Of Radio" (2006), a concept album about the invention of the radio, and "See The Thunder" (2009), which was mixed and mastered by Beau Hill (Alice Cooper, Europe, Ratt, Winger). MARKONEE toured mainland Europe and the United Kingdom extensively in support of their second album, performing dozens of shows with the likes of Winger, Gotthard, White Lion, The Sweet, Molly Hatchet, Tyketto, Soul Doctor, Y&T, L.A. Guns and House Of Shakira.
"Club Of Broken Hearts", their brand new, third release, marks the recording debut of singer Alessio Trapella, who joined the band in 2011. For their latest effort the Italian five-piece recorded 12 original tunes and delivers their strongest set of songs up to today.
This time the album was mixed & mastered by Roberto Priori (Danger Zone, Wheels Of Fire), "Club Of Broken Hearts" also features a guest performance by Michele Luppi (Los Angeles, Secret Sphere, ex-Vision Divine). The album sees the band rocking a little harder than on their previous record, offering driving guitars, majestic vocals and a driving big time groove. Highlights include the rock anthem "I Say No", the catchy title track, the cleverly arranged "Shaken & Stirred" and the musical tribute to their hometown, "Rock City".
MARKONEE are :
Alessio Trapella – Vocals
Stefano Peresson – Lead, Rhythm & Acoustic Guitars, Keyboards
Carlo Bevilacqua – Guitars
Luigi "JJ" Frati – Bass
Ivano Zanotti – Drums
Special Guests :
Michele Luppi – Piano on "Never Ever Loved Me"
Germano Giusti – Horn solo on "Never Ever Loved Me"
Alessandro Cosentino – Violins on "Never Ever Loved Me"
Produced by SonicRobots
in association with Oderso Rubini & Roberto Priori
Mixed & mastered by Roberto Priori
www.markonee.com
www.new-venture-music.com (soon to come)