MAYAN – have entered the studio again!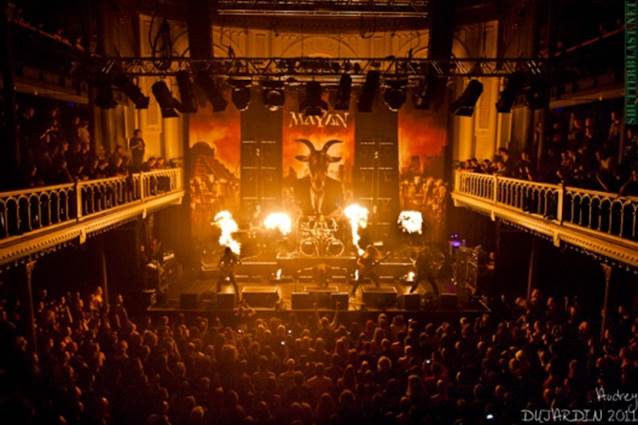 Dutch Symphonic Death Metal formation MAYAN has just entered the studio Sandlane to record their new yet untitled album, along with producer Joost van der Broek (REVAMP, STREAM OF PASSION) .The concept for the record critically concerns the current state of the world which is going totally insane. For example the explosive situation in Syria, governments who constantly accusing each other of lying, spying and using tricks to revoke their own population
The album will feature 10 or 11 tracks and is set for a release in January 2014 via Nuclear Blast. As a very special guest, Floor Jansen, vocalist of both REVAMP and NIGHTWISH will contribute her enchanting voice.
Vocalist Mark Jansen on the upcoming output: "I am very happy with the songs, the first album was one big (cool!) experiment but I have the feeling that the new material is more coherent and in balance. The philosophy of MAYAN is to let things happen intuitively and be totally open minded for each other's ideas. This resulted in music that I can't stop listening to myself! "
MAYAN was born in early 2010 when versatile musician Mark Jansen (EPICA) started a project together with keyboardist Jack Driessen and guitarist Sander Gommans (both ex-AFTER FOREVER) to produce some heavy and technical Death Metal combined with Jack's trademark symphonic arrangements. After writing some music together, Sander couldn't find the time to go for it anymore. Mark then asked guitarist Frank Schiphorst (SYMMETRY, MARCEL COENEN & FRIENDS, CHRISTMAS METAL SYMPHONY), if he was interested in filling the gap. And he was. Ariën van Weesenbeek (EPICA, ex-GOD DETHRONED), Isaac Delahaye (EPICA, ex-GOD DETHRONED) and Jeroen Paul Thesseling (PESTILENCE, OBSCURA) completed the line-up. After nailing down a contract with Nuclear Blast, MAYAN wasted no time as to hire the Gate Studios with renowned producer Sascha Paeth (AVANTASIA, KAMELOT a.o.) and recorded their first album called »Quarterpast« which was released on May 20, 2011.
The current incarnation of MAYAN sees vocalist Henning Basse and Italian Opera talent Laura Macri, who were guests on the previous record, as full time members.
Check your mayan calendar, as 2014 will be the year of MAYAN!
www.mayanofficial.com I www.facebook.com/mayanband