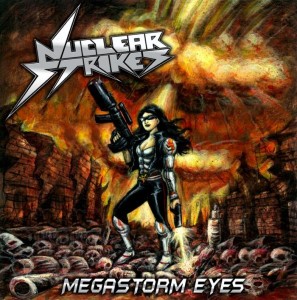 DEFOX RECORDS e HEART OF STEEL RECORDS sono orgogliosi di annunciare il digital deal con i NUCLEAR STRIKES, band proveniente dalla Malesia e con una front girl alla voce.
I Nuclear strikes hanno dato poco lanciato il loro debut EP dal titolo "Megastorm Eyes", dove si può ascoltare un mix vincente di classic Heavy Metal old school ispirato agli anni 80 e un Hard Rock melodico.
La band è stata fondata da Rex Killer e 1, 2 Kill (ex ANTACID) nel 2005 e dopo vari cambi trova la stibilità attorno al 2008 con l'ingresso in formazione della brava ed avvenente LADYANA.
Dal vivo i nostri eseguono anche i classici del genere, da Lee Aaron agli Stryper, dai Riot ai Judas Priest, si sono esibiti con successo a Kuala Lumpur e Selangor, davanti ad audience straripanti.
Grazie ad un accordo con MadRatts Production il loro EP uscirà attraverso la HEART OF STEEL RECORDS nei migliori digital stores mondiali quali Itunes, Amazon, EMusic, Deezer, Spotify… e sarà disponibile a inizio Novembre 2012.
Il formato CD è disponibile oggi, solo per il mercato asiatico! 
"Megastorm Eyes" track list:
6.Memori Hidup(bonus Track)
-Steelgirl Ladyana – Vocal 
-Rex Strike – Lead Guitar