ONSLAUGHT release new album "VI" on September 20th!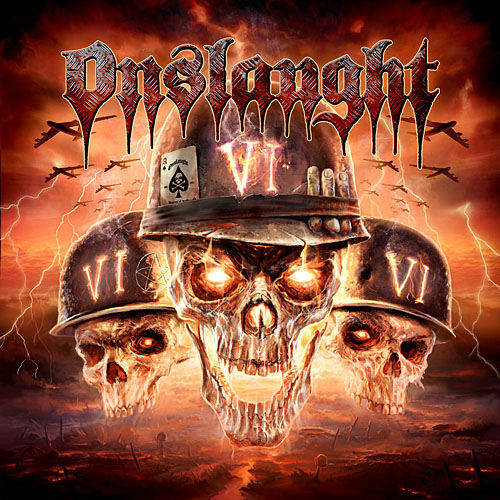 Speaking about thrash metal from England, ONSLAUGHT is the first name that comes to mind of course. Their comeback "Kiling Peace" (2006) was a strong effort, with "Sounds Of Violence" (2011) the legendary band from Bristol even delivered a new classic of the genre. Almost impossible to keep this high level or even exceed from here – one should think… but the thrash veterans have managed the impossible and their new album "VI" (to be released on September 20th) will be proof of it.
Therefore it's only logical that guitarrist Nige Rockett is euphoric as never before:
"Well, the new album 'VI' is finally complete and ready to roll on September 20th and man it has exceeded all our expectations, by a long long way..!!
We really pushed ourselves to the limits in making this record and I think that truly shines thru in the final results. 'VI' is the most brutal and technical album ONSLAUGHT has ever made no question, it's 'Old School, it's contemporary and it's fucking aggressive in the extreme, with a few big suprises thrown in for good measure..! We've gone about the whole album making process with a completely different approach and mindset this time around, ranging from the artwork (by Par Oloffson) thru to the final mixes with Thomas Johansson, who I must single out for mention along with our Drummer Michael Hourihan for really upping the ante in the ass kicking stakes..!!!!
We're feeling kinda proud right now and pretty confident the fans are gonna dig it too..!!"
Tracklisting:
1. A New World Order
2. Chaos Is King
3. Fuel For My Fire
4. Children Of The Sand
5. Slaughterize
6. 66'Fucking'6
7. Cruci-Fiction
8. Dead Man Walking
9. Enemy Of My Enemy
Bonus track on ltd. Digipak and 2-Vinyl: "Shellshock"