ORCHID – »The Mouths Of Madness« OUT NOW, European tour kick-off, "Under the Influence" trailer with Theo Mindell online!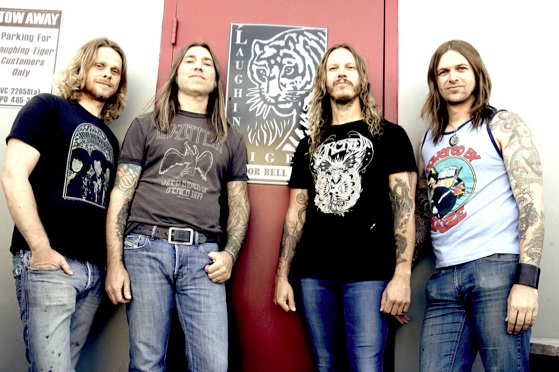 San Francisco-based classic rockers, ORCHID, have released their highly anticipated new album, »The Mouths Of Madness« (album of the month / ROCK HARD Germany) today. The band also released the amazing video for the first single, 'Wizard Of War', this week: http://youtu.be/VA_Q8ci7bag
Closing the series of "Under The Influence" video trailers, ORCHID also put out the last episode featuring singer Theo Mindell talking about his musical influences: http://youtu.be/7p3hqsHzk2U
Furthermore British METAL HAMMER has made the entire »The Mouths Of Madness« album available for streaming at their homepage – surf to: http://www.metalhammer.co.uk/news/orchid-exclusive-album-stream-the-mouths-of-madness
Order your CD/Vinyl/digital copy via http://smarturl.it/Orchid
ORCHID have been named "The best and most important doom band of the past five years" by ROCK HARDGermany's chief in editor Goetz Kuehnemund and BEHEMOTH's legendary mainman Nergal stated "BLACK SABBATH should do an album like »The Mouths Of Madness«!"– find more press quotes below.
The band and their label mates FREE FALL also kick off their mutual European tour today in Lichtenfels, Germany – note the updated tour schedule and make sure to catch ORCHID live!
Also check out
Under The Influence w/ Carter Kennedy: http://youtu.be/8ylnfdi8aEM
Under The Influence w/ Mark Thomas Baker: http://youtu.be/AJs2UvN6yiE
Under The Influence w/ Keith Nickel: http://youtu.be/Wn_rn9xLEbQ
Album trailer 1: http://youtu.be/zNslhPDg_Jg
Album trailer 2: http://youtu.be/fPZpjCemApY
'Wizard Of War' lyric video: http://youtu.be/K0nFQxXmmx4
'Capricorn' music video: http://youtu.be/hTygdeTwZ9U
ORCHID
FREE FALL
TROUBLED HORSE
26.04. D Lichtenfels – Paunchy Cats
27.04. D Berlin – Desertfest
28.04. PL Warschau – Progresja
29.04. PL Krakau – Lizard King
30.04. A Wien – Szene
01.05. D Darmstadt – Steinbruch Theater
02.05. D München – Backstage Halle
03.05. D Siegen – Vortex
04.05. NL Drachten – Iduna
07.05. CH Aarau – Kiff
13.05. I Milano – Lo Fi Club
14.05. I Rome – Traffic Live Club
15.05. I Bologna – Freak Out Club
16.05. A Dornbirn – Schlachthaus
17.05. D Stuttgart – Universum
18.05. D Hamburg – Markthalle
19.05. D Gelsenkirchen – Rock Hard Festival (ORCHID ONLY)
21.05. UK London – Underworld (ORCHID ONLY)
"Who the hell needs a BLACK SABBATH reunion when the heirs to the throne boast as they do? On "The Mouths Of Madness" ORCHID show riffing of such brilliancy that it would even make Mr. Iommi himself blush…" // Peter Engelking, ROCKS Germany
"With "The Mouths Of Madness", ORCHID deliver a retro metallic bombardement par excellance that couldn't be more dangerous, intense or pervasive – that's what the sons of BLACK SABBATH sound like!"// Chris Grenzer, ROCK IT Germany
"In short: this "all killer, no filler" album sets the course for a real break through!" // Dominik Winter, ZILLO Germany
"There's barely any other band these days that delivers more credible music than ORCHID from San Francisco do! Buy it!"// Johannes Paul Köhler, LEGACY Germany
"This album delivers elemental songs that prove to be cult soon!" // Jürgen Tschamler, CLASSIC ROCK Germany

"Not even BLACK SABBATH will be able to beat this album!" // Oliver Weinsheimer, KEEP IT TRUE Festival
"The true heir of BLACK SABBATH. Close your eyes and imagine to be in 1971, this is the real deal, retro rock at its best"// Stefano Cerati, ROCK HARD Italy
"ORCHID should have a gold-medal for keeping this excellent type of music alive and kicking. This is the real thing."// Jakob Schultz, METALIZED Denmark
"WITCHCRAFT, GRAVEYARD and RIVAL SONS should be happy they released their albums last year, because ORCHID leaves all other 70's inspired hard rock albums in the dust!"// Espen Slapgard, METAL HAMMER Norway
"ORCHID is MORE SABBATH than BLACK SABBATH! Here is a band who is re-paving the 1970's back into your cold dead heart. Throw back a pint, smoke up, and dig out your bell-bottoms kids, ORCHID is here to eat your children."// Mike D, KILLSWITCH ENGAGE

www.orchidsf.com | www.facebook.com/orchidsf | www.nuclearblast.de/orchid