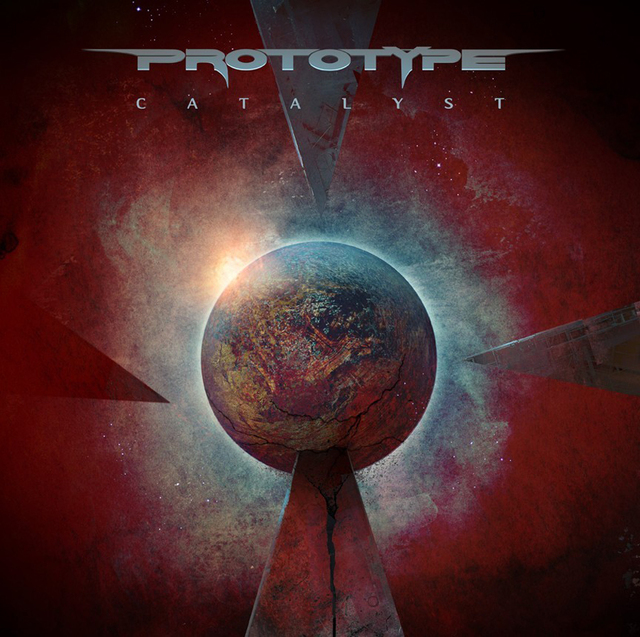 Artwork and Tracklisting Revealed
Formed in 1994 and based in Los Angeles, PROTOTYPE continues to push the boundaries of metal's status quo. Throughout the years, the songwriting team of Kragen Lum (guitar) and Vince Levalois (vocals/guitar) has produced some of the most innovative progressive/aggressive music in the worldwide underground metal scene. The band breaks rules by meshing styles without compromising musical integrity. Their songs boast an array of powerful melody, progression and passion combined with futuristic overtones, while still retaining a heavy attitude. Levalois' lyrics poetically and often metaphorically explore topics of history, humanity and the questioning of one's faith. These phrasings are honest words derived from personal emotion, conflict and educated experience, which serve to reinforce the bands drive and musical direction. Since their inception, PROTOTYPE has shared live billing with FATES WARNING, STRAPPING YOUNG LAD, DEATH, HAMMERFALL, NEVERMORE, MERCYFUL FATE, ENTOMBED, EXODUS, FLOTSAM AND JETSAM, MORBID ANGEL and GRIP INC., amongst many others. These professional collaborations have provided the experience and knowledge needed to excel both on and off the stage.
In 2007, PROTOTYPE was asked to provide a song for the then upcoming GUITAR HERO III: LEGENDS OF ROCK video game by Activision. Game producers chose "The Way It Ends" from the bands second full length release Continuum as a playable track in the game. Now part of video game history, the song lives on as one of the most difficult to master on the game, inciting gamers around the world to step up to the challenge. "The Way It Ends" is now also featured as a playable track in the ROCK BAND video game through the ROCK BAND NETWORK.  PROTOTYPE has also appeared on other gaming releases MTX: MOTOTRAX, TRUE CRIME: STREETS OF L.A. and TONY HAWKS DOWNHILL JAM. 2012 brings about the release of PROTOTYPE's new album entitled Catalyst.  The first new material from the band in over six years, Catalyst is a story-based science fiction concept album containing over 60 minutes of new music.  Produced entirely by the band and mixed by Neil Kernon, the new album also sees the return of the classic Trinity lineup of Kragen Lum (guitar), Vince Levalois (vocals/guitar), Kirk Scherer (bass) and Pat Magrath (drums).  With Catalyst, PROTOTYPE continue to expand their sound by adding new elements to their unique blend of thrash metal and progressive music, creating their heaviest, and clearest album to date.  Today the band has unveiled the album artwork, created by Travis Smith, and tracklisting for Catalyst.  The partnership of Lum and Levalois has flourished for the better part of two decades, during which time they have developed local, national and international recognition, achieving regular to heavy rotation on radio in addition to praise filled reviews and interviews. PROTOTYPE's music represents the consummate intersection of aggressive and progressive song construction, offering a high-energy performance that showcases exceptional musicianship in compositions that remain astonishingly melodic. 
Catalyst Tracklisting:
1)  Inceptum 2)  Catalyst 3)  Cynic Dreams 4)  The Chosen Ones 5)  Illuminatum 6)  My Own Deception 7)  Into Oblivion 8)  Impetus 9)  Gravity Well 10) The Ageless Heart of Memory 11) Exiled 12) Communion 
PROTOTYPE Discography:
Seed (1994) Cloned (1998) Trinity (2002) Continuum (2006)
For More Info Please Visit:
www.twitter.com/prototypeonline
www.reverbnation.com/prototypeonline.com