REVAMP – new trailer about the recording process online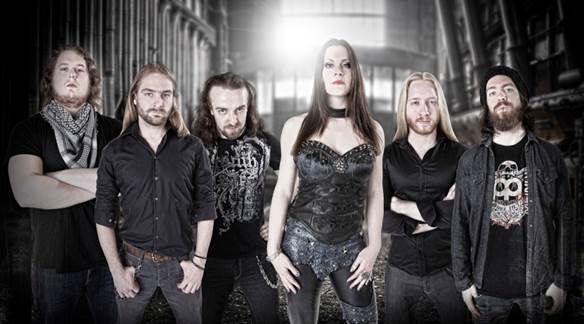 Dutch metallers REVAMP will release their second album »Wild Card« on August 23 via Nuclear Blast.
Last week, the opening track `The Anatomy Of A Nervous Breakdown: On The Sideline´ was released as a digital single.
Get it on iTunes here: http://smarturl.it/revampanatomy
Today REVAMP release a new album trailer, talking about the songwriting, recording and production process.
Watch it here: http://www.youtube.com/watch?v=BJCpf2059yw&feature=youtu.be
The tracklist of »Wild Card« reads as follows:
01. 'The Anatomy Of A Nervous Breakdown': On The Sideline
02. 'The Anatomy Of A Nervous Breakdown': The Limbic System
03. Wild Card
04. Precibus
05. Nothing
06. 'The Anatomy Of A Nervous Breakdown': Neurasthenia
07. Distorted Lullabies
08. Amendatory
09. I Can Become
10. Misery's No Crime
11. Wolf and Dog
Bonus track:
12. Sins
The guest musicians on the album are: Mark Jansen (EPICA), Marcela Bovio & Johan van Stratum (STREAM OF PASSION), Daniel de Jongh (TEXTURES) and… Devin Townsend!
REVAMP & KAMELOT – »Silverthorn Over Europe 2013« tour
presented by CONTRA PROMOTION & KMI ENTERTAINMENT, METALNEWS, MUSIX, EMP
03.11. D Cologne – Essigfabrik
06.11. FIN Tampere – Pakkahuone
07.11. FIN Helsinki – Nosturi
08.11. S Stockholm – Klubben
09.11. N Oslo – Rockefeller
11.11. D Hamburg – Knust
12.11. D Bochum – Matrix
13.11. B Genk – Rondpunt
15.11. NL Tilburg – O13
16.11. CH Lausanne – Les Docks
17.11. CH Pratteln – Z7
18.11. D Frankfurt – Batschkapp
19.11. D Munich – Backstage
21.11. I Trieste – Teatro Miela
22.11. SK Bratislava – Majestic
23.11. CZ Zlin – Winter Masters of Rock
Brace yourselves for one hell of a ride – 'cause REVAMP has more than one ace in the hole!
1st trailer: http://youtu.be/eTRu7wENzIA
2nd trailer: http://youtu.be/oeOyS0CkdSg
3rd trailer: http://www.youtube.com/watch?v=ZGfqoU7RgSg
4th trailer: http://www.youtube.com/watch?v=BJCpf2059yw&feature=youtu.be
www.revampmusic.com | www.facebook.com/ReVamp | www.nuclearblast.de/revamp