SIRENIA – release video clip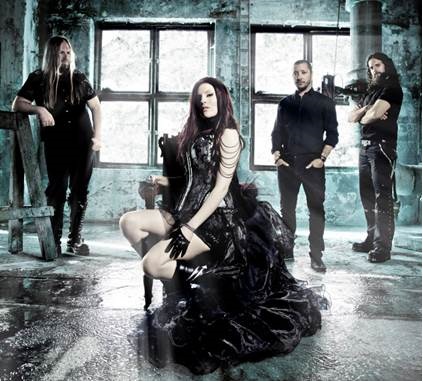 The upcoming new SIRENIA record is called »Perils Of The Deep Blue« and will be out on June 28th on Nuclear Blast Records.
SIRENIA recently shoot the video clip to the track 'Seven Widows Weep'
Watch it here: http://www.youtube.com/watch?v=dGCxgJFjnZw&feature=youtu.be
"In April we went to Serbia to shoot a videoclip for the song 'Seven Widows Weep'. We've been working with the Icode team again, this is the guys that also did the videoclips for our first two videos; 'My Mind's Eye' and 'The Other Side'. We had a great time in Serbia, and the recording sessions turned out great. Now the post production is finished as well and we are very excited to share the video with our fans. We think that the guys at Icode did a great job and made a video that serves the song perfectly. The band is very pleased with the video, and we hope that you will enjoy it as well. Cheers!", comments bandleader Morten Veland.
The tracklist of the ltd. digipak edition – including two bonus tracks – reads as follows:
01. Ducere Me In Lucem
02. Seven Widows Weep
03. My Destiny Coming To Pass
04. Ditt Endelikt
05. Cold Caress
06. Darkling
07. Decadence
08. Stille Kom Døden
09. The Funeral March
10. Profound Scars
11. A Blizzard Is Storming
Bonus:
12. Chains
13. Blue Colleen
Also watch:
First trailer: www.youtube.com/watch?v=leAT0_KMsxQ
Second trailer: www.youtube.com/watch?v=mI8z1GzI6UA
Pre-order the album and merchandise at the Nuclear Blast webshop here:
http://www.nuclearblast.de/de/shop/artikel/gruppen/51000.1.nuclearblast.html?article_group_sort_type_handle=rank&custom_keywords=sirenia%20perils%20of%20the%20deep%20blue
www.sirenia.no | www.facebook.com/sirenia | www.nuclearblast.de/sirenia