The official release date of the second album, "Heart Attack", by US-band SPAVCE VACATION will be the 25th of January 2013. The album is available as CD and as digital download.
SPACE VACATION are a young band from sunny California who really love melodic US-Metal with some NWoBHM mixed into it. In 2009 they released a self-titled debut album on their own private label, and at the beginning of this year, they self-released their second album "Heart Attack", which will now be re-released worldwide by Pure Steel Records. Ex-VICIOUS RUMORS Kiyoshi Morgan has joined the band this year. All fans of US-Metal and NWoBHM will love the 10 songs on this album. Their strength are sophisticated guitar arrangements, high and clear vocals and very catchy songwriting, which reminds you of the 80s. Just listen to the exemplary "Bro Hammer" or the fantastic "Rocker", which could have been mega-sellers in the 80s. Last but not least: A warm and authentic production will convince anyone who has been in doubt until now that SPACE VACATION are able to do great things!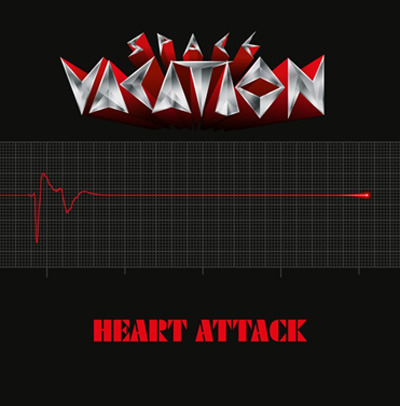 Tracklist:
1 Heart Attack
2 End Of The Bender
3 Bro Hammer
4 Boston Massacre
5 Devil´s Own
6 Summer Knights
7 On The Road
8 Loaded Gun
9 Logan´s Ruin
10 Rocker
Total playtime: 44:32 min

Line-Up:
vocals, bass – Scott Shapiro
guitars – Kiyoshi Morgan
drums – Eli Lucas
Pre-orders for the 2nd album of SPACE VACATION, "Heart Attack", are now possible. Save 1 EURO during the preorder time in our webshop!