British HARD ROCK Masters TEN come back with
their 10th studio album « Heresy And Creed »
Frontiers Records is pleased to announce the release of TEN's anticipated new studio album entitled "Heresy And Creed" on October 19th in Europe and October 22nd in North America.
Following the band's successful come back in 2011 with "Stormwarning"  TEN are now back with another slice of Melodic Hard Rock of Epic proportions.
For TEN's tenth studio album singer and songwriter Gary Hughes has worked very hard to live up to the expectations that surround the band's new album. The new lineup featuring the new axeman Dan Mitchel, Darrel Treece-Birch on keyboards and Max Yates on drums – along with long time member John Halliwell and returning bassist Steve McKenna – has complemented Hughes efforts in creating the best TEN album ever.
Musically it once again marks the perfect union between grandiose and epic Hard Rock tunes. Very melodic, hook-laden singalong songs with a scattering of immense and haunting power ballads to complete the typical TEN tapestry. Gary Hughes says: "It is a particularly strong selection of material. I feel this is possibly our most mature, and diverse collection of songs ever. There is literally something in there for everyone and every taste".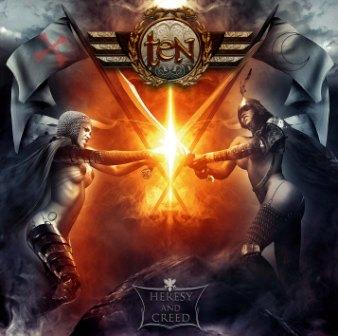 "Heresy and Creed" is a true classic Ten and a groundbreaking, monumental album in more ways than one: classic hook laden songs. Power and melancholy with not a single 'filler' in sight.  Also thanks to a superb mix courtesy again of Dennis Ward, "Heresy And Creed" will prove once again that Ten are at the top of their genre. Ten are back and better than ever!
"Heresy And Creed" tracklisting includes
The Gates Of Jerusalem (Instrumental); Arabian Knights; Gunrunning; The Lights Go Down; Raven's Eye; Right Now; Game Of Hearts; The Last Time; The Priestess; Insatiable; Another Rainy Day; Unbelievable; The Riddle.
The radio edit version of "Gunrunning" can exclusively be listened in full in streaming on the Frontiers Web radio. Tune in at: www.frontiers.it/webradio