THE DEFILED – reveal `Unspoken´ video clip and »Daggers« track list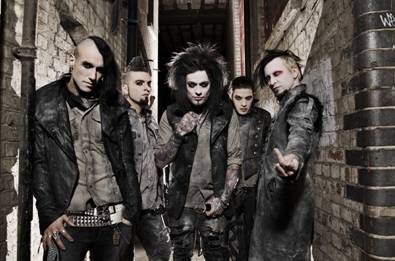 Today, London-based modern metal mob THE DEFILED reveal the first video from their forthcoming second studio album and Nuclear Blast Entertainment debut »Daggers«, showcasing their most gruesome visual work to date.
The `Unspoken' video clip sees front man Stitch D and keyboardist The AvD held captive by their band mates before descending into a torturous nightmare. The `Unspoken´ single will be released on June 30, 2013.

The video was directed by Robin Fuller (FEED THE RHINO, HAWK EYES, DAATH) and produced by award winning producer Craig Tuohy. Craig's own production company, Ascension Productions, won a golden trailer award for the work on "The Kings Speech" and has also worked with the likes of Jean-Claude Van Damme.
"Making our first official video for »Daggers« was the most fun we have had filming. Stitch and I tried our hand at acting and as we decided on the day, we nailed it! Not really, we are terrible actors…", jokes The AvD.
He continues: "We also got to work with our old pal Robin Fuller who was actually the very man that directed our first ever video 'The Resurrectionists'. I think this video sums up what 'Unspoken' is all about. We wanted a very specific scene in there where the two protagonists (The AvD and Stitch D) are smiling at each other and shaking hands with knives behind their backs. This very scene was the inspiration for the actual cover of »Daggers« as this theme runs throughout the whole album."
Watch the video here: http://bit.ly/13iSDoL
Head over to the Metal Hammer UK website to check out the "behind the scenes of `Unspoken´" video: http://bit.ly/13ixTgQ
Recorded in Audiohammer Studios in Sanford, Florida with acclaimed sonic guru Jason Suecof, »Daggers« sees the band at the top of their game, with their most powerful and infectious songs so far. The track listings of the three different formats look as follows:

Limited Edition Digipak CD
1. Sleeper (4:00)
2. Unspoken (4:05)
3. Saints And Sinners (3:49)
4. As I Drown (4:41)
5. Porcelain (3:23)
6. New Approach (3:09)
7. Fragments Of Hope (4:30)
8. The Infected (4:01)
9. The Mourning After (4:14)
10. Five Minutes (4:38)
11. No Place Like Home (4:44)
bonus tracks:
12. I Destroy What Destroys Me (4:16)
13. Self Under Siege (3:25)
Digital Album
1. Sleeper (4:00)
2. Unspoken (4:05)
3. Saints And Sinners (3:49)
4. As I Drown (4:41)
5. Porcelain (3:23)
6. New Approach (3:09)
7. Fragments Of Hope (4:30)
8. The Infected (4:01)
9. The Mourning After (4:14)
10. Five Minutes (4:38)
11. No Place Like Home (4:44)
Digital Bonus Version – iTunes exclusive
1. Sleeper (4:00)
2. Unspoken (4:05)
3. Saints And Sinners (3:49)
4. As I Drown (4:41)
5. Porcelain (3:23)
6. New Approach (3:09)
7. Fragments Of Hope (4:30)
8. The Infected (4:01)
9. The Mourning After (4:14)
10. Five Minutes (4:38)
11. No Place Like Home (4:44)
bonus tracks:
12. I Destroy What Destroys Me (4:16)
13. Self Under Siege (3:25)
Pre-order »Daggers« here: http://smarturl.it/DaggersCD
Be sure to catch THE DEFILED live at one of their upcoming European shows:
09.06. D Berlin – Comet Club
10.06. D Frankfurt am Main – Nachtleben
11.06. NL Tilburg – O13
12.06. D Hamburg – Headcrash
14.06. DK Copenhagen – Copenhell Festival
www.facebook.com/thedefiled | www.nuclearblast.de/the-defiled