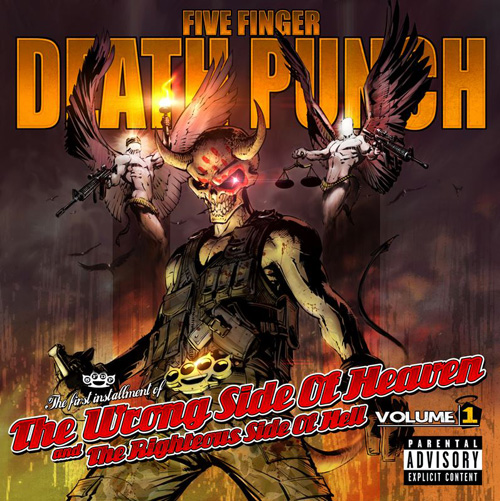 Oggi i Five Finger Death Punch pubblicano il loro atteso nuovo album The Wrong Side Of Heaven And The Righteous Side Of Hell Volume 1 su Eleven Seven/EMI. Si tratta del seguito di tre dischi d'oro, The Way of The Fist (2007), War Is The Answer (2009) e American Capitalist (2011) che hanno venduto più di 500.000 copie, mentre le vendite dei singoli hanno superato i 4 milioni e mezzo.
Il nuovo singolo dei Five Finger Death Punch, "Lift Me Up" http://www.youtube.com/watch?v=X-2yuGgp_U8
(che vede la partecipazione di Rob Halford dei Judas Priest), è attualmente al primo posto della classifica Active Rock per la seconda settimana consecutiva. Si tratta dell'undicesima entrata consecutiva nella Top 10 delle radio per i Five Finger Death Punch. Il chitarrista Zoltan Bathory dichiara: "Sembra che sia la tempesta perfetta. Con il singolo 'Lift Me Up' (feat. Rob Halford dei Judas Priest) al primo posto proprio nella settimana di uscita del nuovo album, sentiamo un sacco di affetto, supporto e partecipazione da parte di tutti. La band è molto eccitata perché si tratta del nostro migliore lavoro di sempre e non vediamo l'ora che i fan lo ascoltino".
Oltre a Rob Halford dei Judas Priest, altri ospiti dell'album sono il rapper Tech N9ne in un'inattesa cover di LL Cool J, "Mama Said Knock You Out", Maria Brink degli In This Moment su "Anywhere But Here", Jamey Jasta degli Hatebreed su "Dot Your Eyes And Cross Your Teeth" e Max Cavalera dei Soulfly su "I.M. Sin". L'album è stato pubblicato in diverse versioni, tra cui una deluxe edition con un bonus CD contenente 15 brani dal vivo, PURGATORY [Tales From The Pit], con una t-shirt in edizione limitata. Attraverso lo store ufficiale della band è possible acquistare un box set in edizione limitata, con svariati gadget inclusi (http://fivefingerdeathpunch.shop.bravadousa.com/Product.aspx?cp=12095_61766&pc=BGFDCOMBO12).
La band sta concludendo il Rockstar Energy Drink Mayhem Festival di cui è headliner con Rob Zombie. Vedremo i Five Finger Death Punch dal vivo il 23 novembre al Forum di Assago (MI) con gli Avenged Sevenfold.
Album Track By Track webisodes:
#1 http://www.youtube.com/watch?v=5fcgbQHTaog&feature=player_embedded
#2 http://www.youtube.com/watch?v=t3fhp73cqGo&feature=youtu.be
#3 http://www.youtube.com/watch?v=5WqGJ8A_Ets&feature=player_embedded
#4 http://www.youtube.com/watch?v=ure7x99JERA&feature=youtu.be
#5 http://www.youtube.com/watch?v=AeAk6nkeU50&feature=youtu.be
www.fivefingerdeathpunch.com
www.facebook.com/fivefingerdeathpunch