HYPOCRISY – "End Of Disclosure" out now!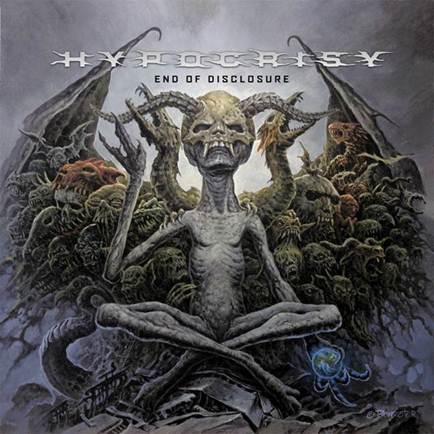 The new masterpiece of Swedish death metal monsters HYPOCRISY "End Of Disclosure" is out now!
It doesn't take more than the first seconds of the opener and title track `End Of Disclosure´ to locate the new record's position in HYPOCRISY's
multifaceted discography. Being on a par with 1990's brute yet multifarious masterpieces, "End Of Disclosure" – produced by mastermind
Peter Tägtgren in his Abyss Studio, Sweden – leaves no space for breathers. Lethal punches are hailing down on your eardrums from the first
riff to the final cymbal clash, which are being intensified in their vast vigorous effect by melodies of pure majesty.
The Press agrees:
"Album of the month"
Metal Hammer (D)
"Album of the month"
Rock Hard (F)
"Album of the month"
Legacy (D)
"Album of the month"
Metalfactory (CH)
Hypocrisy's latest baby takes the contemporary sound from Pain and twists it back into a basic,
dark, old school blackened death metal context. Brilliant, and much superior to the predecessor!
CLASSIX METAL (I), Michelle Marrone
They are watching over us! And someone knows, but they are conspiring on all humanity.
Mr. Tätgren again control Hypocrisy with its melodies for a struggling death metal. Superlative!!!
Metal Maniac (I), Ivan Gaudenzi
Hypocrisy go back to the roots but they always know how to deliver the goods.
End Of Disclosure is the perfect soundtrack for your close encounter of the third kind. Don't miss it!
ROCK HARD (I), Paolo Sola
Don't miss HYPOCRISY live on tour:
End Of Disclosure Tour 2013
HYPOCRISY (swe)
+ HATE (pl)
+ ESSENCE (den)
28.03. DE Essen/Turock
29.03. BE Namur/Cinex
30.03. NL Leeuwarden/Romein
31.03. NL Eindhoven/Effenaar
01.04. FR Paris/Trabendo
02.04. FR Saint/Etienne/Le Fil
03.04. CH Genf/L'Usine
04.04. CH Winterthur/Salzhaus
05.04. DE Stuttgart/LKA
06.04. DE Leipzig/Hellraiser
07.04. DE Hamburg/Markthalle
08.04. DE Berlin/K17
10.04. PL Krakau/Kwadrat
11.04. CZ Prag/Nova Chmelnice
12.04. DE Dettelbach/Metal Franconia Festival
13.04. DE München/Backstage
14.04. AT Wien/Szene
UK-Shows
16.04. UK London, Camden Underworld
17.04. IRE Dublin, Button Factory
18.04. UK Glasgow, Stereo
GET ALBUM AT:
Nuclear Blast: http://smarturl.it/HypoEOD
iTunes: http://smarturl.it/Hypo-EoD-iTunes
Check the "End Of Disclosure" album trailers:
Part I: http://youtu.be/ivvzs8KRsug
Part II: http://youtu.be/H1vU6SGALVs
Part III: http://youtu.be/ULOWKL0s1PM
The video clip can be seen here: http://www.youtube.com/watch?v=MJsdZ2FR3WM
and the Making Of: http://youtu.be/B195M02nmq4
www.hypocrisy.cc | www.facebook.com/hypocrisy | www.nuclearblast.de/hypocrisy