KREATOR – Huge, signed »Dying Alive« prints to be auctioned off for charity!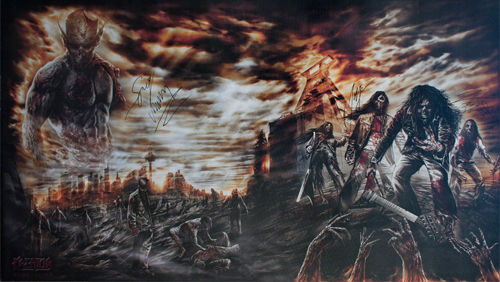 German thrash titans KREATOR, Nuclear Blast, Janmedia and animal rights organization PETA Germany have teamed up for charity. Together three huge prints of parts of the stunning artwork (by renowned artis Jan Meininghaus) of the band's most recent DVD/Blu Ray »Dying Alive« are being auctioned off via eBay.
All three prints are signed by all bandmembers – all proceeds will go directly in favor of PETA Germany.
Check out and spread all three auctions here: http://ebay.eu/164ns2G
Commented KREATOR mainman and active vegan Mille Petrozza: "Our favorite artist Jan Meininghaus did an amazing job creating the cover art for »Dying Alive« and the prints look just awesome. We are happy to support PETA and all the hard working people that help to make this world a better place – not only for humans, cats, dogs and other pets, but for ALL our animal friends on this planet."

Added PETA Germany representative Jobst Eggert: "Animals need our voice as they can´t speak for themselves. We are happy that the animals have such a strong and charismatic voice like Mille's who stands up for their rights. Making people aware of wrongs in this world is something KREATOR and PETA have in common and we are extremely grateful that the proceeds from these auctions will help us keeping up our work and make this world a better place for animals."
PETA Deutschland e.V. is a an affiliate of PETA USA who is the biggest animal rights organization (more than 3 million supporters) worldwide whose main goal is to raise awareness by revealing animal cruelty, wise up the general public and change ways of life to help every animal living a better life.
»Dying Alive« features the band's sold out homecoming show in Oberhausen, Germany on December 22, 2012 after an extensive 45 days European tour in support of their highly successful album »Phantom Antichrist«. The packed and sweat driven show was filmed by 24 cameras as well as guitar and even mosh pit cams.
The first »Dying Alive« trailer can be viewed at this location: http://youtu.be/FyWFAYar37U, the second at http://youtu.be/YhxvCCHuU4A, the third at http://youtu.be/0CrxYiCDRWQ
Check the live clip for 'Death To The World' at: http://youtu.be/VRs1WwLqSdA
'United In Hate' is available here: http://youtu.be/D0SHK6nZqTw
The DVD/Blu Ray contains the show, a behind the scenes documentary as well as video clips. Approximate total running time: 115 minutes.
»Dying Alive« is available in various formats:
DVD/2CD
Blu Ray/2CD
Earbook (DVD/Blu Ray/2CD + Bonus CD feat. »Phantom Antichrist« demo songs)
Earbook + 7" (DVD/Blu Ray/2CD + Bonus CD feat. »Phantom Antichrist« demo songs) – Nuclear Blast Mailorder ONLY
Audio-Formate:
Limited 2CD incl. live bonus tracks
2LP (black, 180g, gatefold + poster)
2LP (red, 180g, gatefold + poster) – Nuclear Blast Mailorder ONLY
2LP (orange, 180g, gatefold + poster) – Nuclear Blast Mailorder ONLY
Order »Dying Alive« via http://smarturl.it/KreatorDyingAlive
KREATOR live
13.09. D Berlin – Kulturbrauerei, Kesselhaus, Metal Hammer Awards
21.09. F Mennecy – Mennecy Metal Part Festival
www.kreator-terrorzone.de| www.facebook.com/kreatorofficial| www.nuclearblast.de/kreator